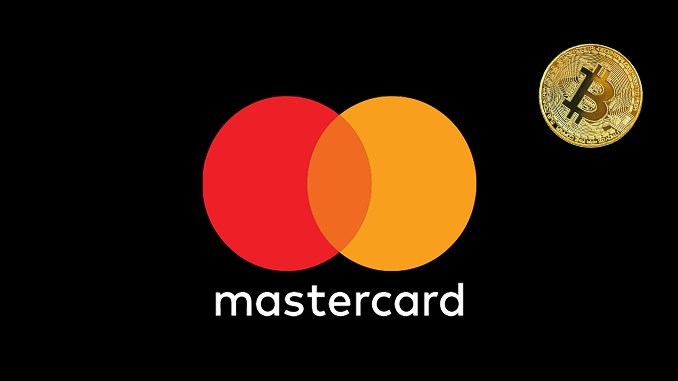 Big things are brewing at credit card giant Mastercard: Still in 2021, they will integrate some cryptocurrencies directly in its network and thus also enable payments via crypto.
The interest and demand for Bitcoin and Co. is now not leaving Mastercard cold: in a blog post, the payment service provider describes why they will already integrate cryptocurrencies directly into Mastercard's range this year. Because whether one is a fanatical proponent or explicit skeptic of cryptocurrencies – no one can deny the increasing importance of digital currencies in payment transactions anymore. That's why they're working hard to meet customer demands and soon fully integrate some cryptocurrencies into Mastercard's network, he said.
So far, Mastercard already issues credit cards in cooperation with crypto companies such as Wirex and BitPay. But fiat continues to circulate in Mastercard's network in the process, and merchants also end up receiving fiat. Crypto assets are converted into traditional currencies before being fed into the payment chain at Mastercard. This is where Mastercard now wants to make the decisive step towards Bitcoin and some Altcoins. Because in the near future, merchants will also be able to accept crypto directly and customers will likewise be able to pay in crypto directly. Mastercard wants to relieve its customers of the challenge of reliably serving different blockchains. These will then presumably be able to conveniently store and manage their monetary coins in an easy-to-use wallet.
Which cryptocurrencies will Mastercard support?
Mastercard only mentions Bitcoin by name in the blog post and additionally refers to stablecoins, which have generally proven to be stable in value and legally permissible. In selecting the cryptocurrencies Mastercard will then launch with, security and regulatory issues are of great importance, he said. It is already clear, he said, that of the many hundreds of altcoins circulating, only some will pass Mastercard's test.
For PayPal, in addition to Bitcoin, it is Litecoin (LTC), Ethereum (ETH) and Bitcoin Cash (BCH) that will be integrated since the end of 2020. When it comes to stablecoins, Tether (USDT) as the market leader is probably an option. The question of Mastercard's future crypto portfolio is therefore exciting because the altcoins ultimately selected can expect a boost in terms of awareness and positive image. In addition, Mastercard, as a clearing house in payment transactions, could also build up reserves in crypto itself.
Conclusion: Mastercard acts crypto-friendly
In its announcement, Mastercard basically equates traditional fiat currencies and cryptocurrencies – "it should be your choice, it's your money," it says. In metrics such as revenue and employees, Mastercard and PayPal are roughly on par. This is also true for Visa, the third of the very large and globally greedy US financial services providers. Whether Visa can now afford to neglect crypto for much longer is therefore probably not a theoretical question. The signs are good that in 2021 we will get used to being able to pay directly with leading cryptocurrencies as part of our everyday lives.
---
Best place to buy Bitcoin: