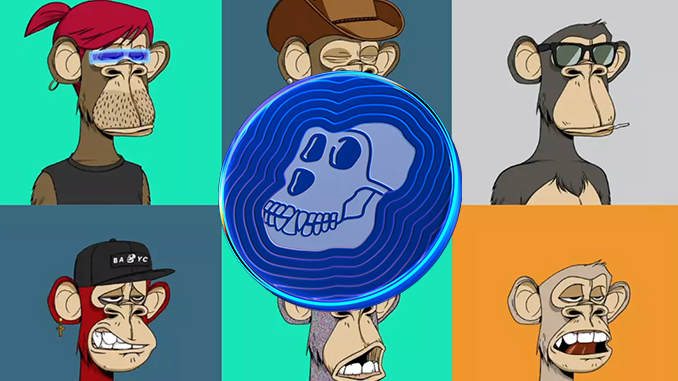 The NFT project Bored Ape Yacht Club is one of the most successful of its kind and has now launched its native token ApeCoin (APE). The stock market debut immediately took ApeCoin way up the charts.
Just recently, Bored Ape Yacht Club made headlines with crypto company Yuga Labs behind it as the trademark rights were taken over by rivals CryptoPunks and MeeBits. Now, in the middle of the discussion about the sense and nonsense of NFT projects, the most spectacular stock market debut so far in the crypto year 2022 has burst: ApeCoin (APE) has been freely traded since yesterday (Thursday) and is also immediately listed on the important crypto exchanges such as Binance, FTX or eToro for the launch. CoinMarketCap ranks Apecoin in the TOP 50 most capitalized cryptocurrencies after the first trading day already. According to the report, APE's price curve initially shot up with peaks of nearly $40, then dropped sharply to below $10 and appears to be settling at levels of just over $12 on Friday morning. Time for a little closer look at ApeCoin.
From a technological perspective, APE launched in the tried and true ERC-20 format. This should fulfill ApeCoin's main stated goal of serving as a governance token for its own ecosystem. ApeCoin was launched by Yuga Labs and those who already held NFTs from Bored Ape Yacht Club or the similar project Mutant Ape Yacht Club were allocated APE via airdrop. This once again shows the special approach of Bored Ape Yacht Club: this NFT project not only sold digital NFT art, but also attached a kind of club card to the NFTs, giving access to exclusive promotions like concerts. So now the plan is also announced to ApeCoin that APE will serve as a ticket for events, blockchain gaming, merchandising and more in the future. Only 10,000 NFTs existed at Bored Ape Yacht Club with current market values of well over $200,000 each. So ApeCoin could effectively become a membership card for non-VIPs.
The fate of the APE ecosystem is to be organized by a foundation. At the start, the board of directors will include prominent members such as Alexis Ohanian , a co-founder of Reddit, the head of Horizon Labs, Dean Steinbeck, and the top manager Amy Wu from the crypto exchange FTX. The APE Foundation says that the five-member founding board will serve a six-month term, followed by elections via DAO with Apecoin as the ballot. So, by then at the latest, the Apecoin community could set goals other than those originally stated.
ApeCoin – ingenious marketing or huge scam?
Bored Ape Yacht Club has demonstrated how an NFT project becomes more than digital art. With ApeCoin, however, experienced observers become suspicious when they look at the planned distribution of the 1 billion APE generated. 28 percent of it is now in circulation, and most of it went to investors who were already involved in Yuga Labs' projects through NFTs from Bored Ape Yacht Club, for example. A whopping 8 percent of all APE is held for Yuga Labs' founders and will be distributed to them in tranches starting in March 2023. There will also be ApeCoin for Yuga Labs employees, with 15 percent reserved here. Another 14 percent of all ApeCoin will go incrementally to those who helped launch APE, so presumably crypto exchanges as well. This all already smells of overreaching and does not exactly give the impression of a transparent and fair initial sale of ApeCoin.
On the other hand, it remains to be seen what entertainment offers will be associated with APE. With Bored Ape Yacht Club, these were the added value compared to other NFT projects and thus the special attraction. In addition, it will be exciting to see who will participate in the self-management of the ApeCoin ecosystem in the future and how. Will Whales and thus a small group retain the supremacy or will ApeCoin become an example of innovative democracy via governance tokens?
Conclusion: ApeCoin electrifies the crypto scene at launch
If you want to join ApeCoin now, please choose a crypto exchange like Binance, where you can also transfer your APE to external wallets, ensuring guaranteed full access and rights in the ecosystem. However, the huge interest in Apecoin on the first day of trading, with more than 5 billion in turnover, is no guarantee that APE's price curve will develop successfully. Despite all the prominence, the open questions about ApeCoin have not been answered and the risk of hype in this project should not be underestimated.