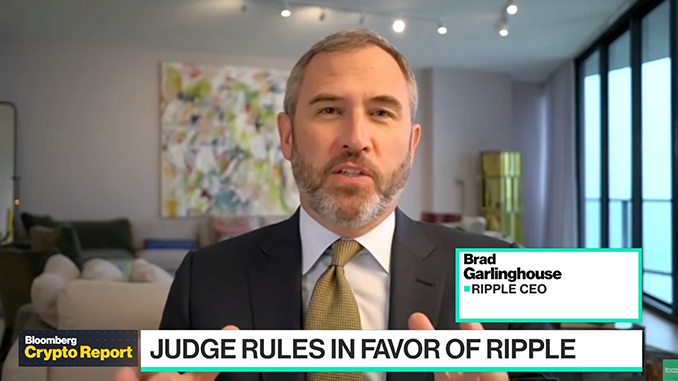 Hopes are rising at Ripple to emerge victorious from its lawsuit against the U.S. Securities and Exchange Commission (SEC). CEO Brad Garlinghouse, meanwhile, is generally critical of the agency and sees it as harmful to the economy.
News from the U.S. Securities and Exchange Commission's (SEC) lawsuit against Ripple (XRP), often considered a landmark case: a few days ago, the court in New York again rejected requests by the agency to curtail Ripple's rights of defense ("fair notice defense"), according to the interim ruling. This detail, which is important from the perspective of legal experts, had become increasingly prominent in recent months. At issue is also whether the SEC warned Ripple in a timely manner that a sale of XRP might require approval. At the heart of the case is the SEC's lawsuit, which classifies XRP as securities and seeks to prove that Ripple knew about an approval requirement when it sold XRP in 2013 and 2014, but ignored it.
On this issue, Ripple sees itself as significantly exonerated by its own evidence anyway, and recently introduced documents about previous legal advice into the lawsuit. The judge again now sees it as proven that the SEC should have informed Ripple unusually late about possible concerns about XRP. Ripple CEO Brad Garlinghouse now commented on the developments in a TV interview and attacked the SEC in principle.
Ripple CEO: SEC endangers competitiveness of U.S. economy with crypto lawsuits
Garlinghouse said the court's latest decisions are a success not only for Ripple as a company, but also for crypto industry as a whole. That's because the SEC is increasingly clearly trying to expand its powers toward crypto and control the industry. But while it faces failure in doing so judicially, the competitiveness of this "critical" industry for the U.S. is being diminished, he said. It is becoming apparent that the SEC is out of step with parts of the U.S. government and the position of regulators in other major economies, Garlinghouse said.
In his view, the SEC failed to create a clear framework for the crypto industry early on. Ripple and other companies must now suffer as a result, he said. This is because the SEC applies strict processes and still fails to clearly explain, as regulators elsewhere do, which rules actually apply to the crypto industry. Garlinghouse said the U.S. has a vested interest in proving itself as a pioneer in crypto, as it did in the rapid expansion of the Internet 20 years ago. The crypto industry is innovative, he said, and nowhere else but in the U.S. is XRP considered a security that should be particularly tightly regulated.
Bottom line: rib for XRP increasingly optimistic – SEC in focus
With his broadside against the SEC, Garlinghouse has hit the nerve not only of XRP investors. For in fact, investors and the crypto industry have become accustomed to dealing with regulation in recent years, albeit hesitantly, but overall positively. Even if new laws and, for example, tax rules seem obstructive at first, in the medium term they strengthen confidence in Bitcoin and Co. and thus enable entry into new industries and markets. Meanwhile, the price curve of XRP continues to trade sideways around $0.80. Apparently, the crypto market does not want to commit to a comeback of XRP before a final ruling in the SEC vs. Ripple trial.
---
Best place to buy Bitcoin and Ripple (XRP):