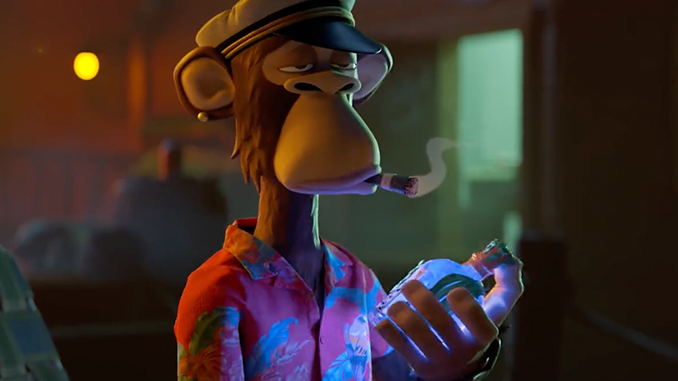 ApeCoin (APE) got off to a bright start when it made its stock market debut a few days ago. Now there are hints that ApeCoin will become native token in its own metaverse with popular NFT projects.
The crypto scene has discovered a new topic: because the NFT project Bored Ape Yacht Club recently not only acquired the trademark rights to CryptoPunks, but shortly thereafter also got its own cryptocurrency, ApeCoin (APE). ApeCoin made a stock market debut accompanied by a lot of hype, even though it was not at all clear what APE was actually supposed to be good for. But now Yuga Labs, the crypto company behind the cosmos Bored Ape Yacht Club, has released the preview of where ApeCoin is headed.
See you on the Otherside in April. Powered by @apecoin pic.twitter.com/1cnSk1CjXS

— Yuga Labs (@yugalabs) March 19, 2022
"See you on the other side," Yuga Labs writes on a whimsical video clip. And this "Otherside" will be made possible by ApeCoin. The teaser is accompanied by the psychedelic rock classic "Break on Through (To the Other Side)" from 1967 by The Doors, which has become iconic and bluntly depicts drug and borderline experiences. Squeaky-colorful and surreal is also what Yuga Labs briefly demonstrates on ApeCoin and "Otherside." The main character is an animated representative from the Bored Ape Yacht Club, who fishes a bottle out of the water while fishing and takes a hearty swig from it. Right after that, heaven and earth start moving, a wild trip begins. A mixture of submarine and space capsule races by – on board figures from six prominent NFT projects with Cool Cats, CryptoPunks, CrypToadz, Meebits, Nouns and World of Women. This direction, of course, wants to follow on the cool monkey of Bored Ape Yacht Club with the help of ApeCoin.
The 90-second comic clip for ApeCoin spontaneously whets the appetite for more, and a neon light with "FOMO" ("fear of missing out") is an insistent reminder not to miss Otherside with ApeCoin. This FOMO logo can also be found on a new home page of Animoca Brands. The game studio is known for its graphic and creative art on The Sandbox (SAND) and Axie Infinity (AXS), two of the most successful blockchain games and metaverse tokens already in existence. They are working on a "secret project" with ApeCoin and Bored Ape Yacht Club, Animoca Brands had announced on Twitter just a few days ago.
ApeCoin and Otherside – flashy metaverse in prospect
You already have to hand it to Yuga Labs and ApeCoin: The cool and stylish advertising campaign for an upcoming Metaverse Otherside stirs up anticipation, here is transported attitude towards life. The big names from the NFT scene do the rest. If what the teaser promises can later be experienced interactively online with ApeCoin, we'll get a Metaverse that sets its own accents and plays right up front graphically. Early investors in Pixelmon had to painfully experience how huge cracks quickly appear between idea and reality in NFT projects.
Conclusion: ApeCoin (APE) – get in now or be patient?
So far, nothing has been leaked about when Otherside might launch (most likely in a beta version) and if the work of developers and graphic artists is just starting now, the launch won't be able to come quickly either. By the way, the "305" in the video and on the homepage is a reference to Miami and Rap and not a date. What is clear at the same time is that the campaign for Otherside and ApeCoin with Bored Ape Yacht Club is intended to keep interest in APE high and attract investors. Measured against other Metaverse tokens such as Decentraland (MANA) and The Sandbox (SAND), APE's price curve and market capitalization still seem to have a lot of upside potential – but then again, ApeCoin doesn't have a Metaverse as a field test online yet either.
---
Best place to buy Bitcoin: