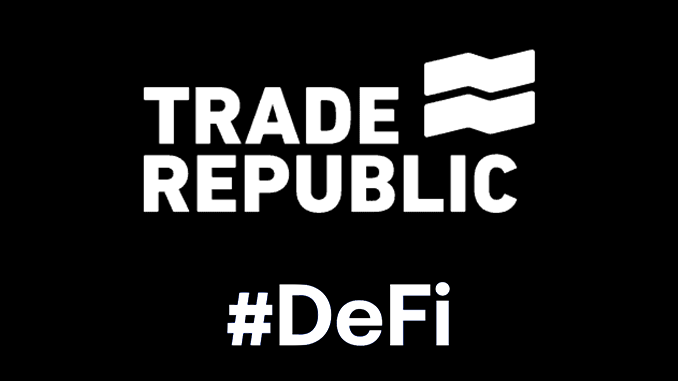 The neo-broker Trade Republic lists 18 new cryptocurrencies and thus now has 27 altcoins in addition to Bitcoin in its program. Does this make Trade Republic a competitor for crypto exchanges?
With more than 1 million customers, Trade Republic is considered the largest German provider among the so-called neo-brokers and was also convincing in our test. The biggest point of criticism for a long time was the very small portfolio of listed cryptocurrencies, where Trade Republic already improved at the end of 2021 with Ripple (XRP), Stellar (XLM) and EOS. Now, however, Trade Republic is making it known via Twitter that 18 more altcoins will be added to its portfolio in one fell swoop.
Among the new additions to Trade Republic as of now are, for example:
– AAVE is a DeFi Coin of the first hour with focus on lending transactions.
– Avalanche, this DeFi Coin has already made headlines in the new year as well.
– Axie Infinity (AVX) is a blockchain game with its own cryptocurrency and is wildly successful in its field.
– Chiliz (CHZ) focuses on fan tokens, which are becoming increasingly popular in professional sports.
– Compound (COMP) belongs to the DeFi division and is one of the pioneers there.
– Graph (GRT) scores with its concept of indexing blockchain data, and not only with DeFi customers.
– SushiSwap (SUSHI) is the native token of one of the most successful decentralized crypto exchanges.
– Synthetix (SNX) is known for derivatives trading, where it tracks typical asset classes such as oil and gold, as well as Bitcoin (BTC).
– 1inch Network (1Inch) organizes a price comparison for DeFi deals and thus has a rather unique concept.
Trade Republic's crypto offering – strengths and weaknesses.
With 28 cryptocurrencies now listed, Trade Republic has come a big step closer to its stated goal of making diversification easy for customers in this line of business as well. In addition to the top dogs Bitcoin (BTC) and Ethereum (ETH), the DeFi token segment is now also quite well covered. What is completely missing from Trade Republic, however, are Metaverse tokens, which are often predicted to have similarly good prospects as DeFi.
It is also noticeable that Trade Republic's crypto portfolio still lacks many of the most capitalized altcoins in the extended top 10 in particular. Cardano (ADA), for example, has lost some ground recently but remains one of the most prominent global altcoins. Binance Coin (BNB) is the number three major cryptocurrency and its absence from Trade Republic is hard to understand. Similarly, Solana (SOL), the shooting star in crypto in 2021, and Terra (LUNA), which just hit a new all-time high in 2022 against the trends. We would also expect Polkadot (DOT) at Trade Republic.
Conclusion: Trade Republic convincing as a platform for all-rounders
You notice: those who go deeper into trading cryptocurrencies are still limited at Trade Republic due to puzzling gaps in the listed altcoins. Another negative point with Trade Republic is that Bitcoin and Co. are stored at the broker and cannot be transferred to external (hardware) wallets.
On the other hand, the fee policy at Trade Republic is fair and the big advantage is that this platform offers stocks, ETFs and derivatives from a single source. So, if you see crypto as a way to round out your individual investment strategy, Trade Republic as a German neobroker is a good place to start.
---
Best place to buy Bitcoin: