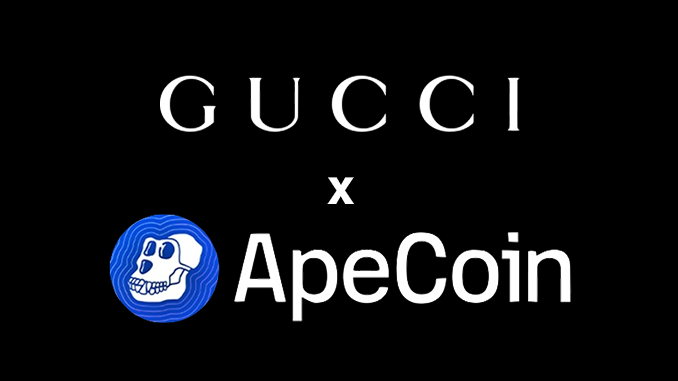 ApeCoin finds a prominent point of contact in Gucci, which accepts payments with APE. With this move, the luxury brand is expanding its strategy to flourish on the Web3 as well. The combination of ApeCoin and Gucci has its appeal.
Gucci, one of the world's best-known luxury brands, offers everything from evening dresses to perfumes and from jeans to eyewear. The fashion company had already started accepting selected cryptocurrencies such as Bitcoin (BTC) as a means of payment in the spring. Now Gucci reports via Twitter to also accept ApeCoin (APE). This fits in with plans to set Gucci up for Web3, it adds. Until now, Gucci had limited its acceptance of cryptocurrencies to established and widely used altcoins in addition to Bitcoin. ApeCoin, on the other hand, only launched this March, but managed to garner a lot of attention with its vision of a metaverse called Otherside.
On a purely technical level, Gucci relies on crypto financial services provider Bitpay for payments in APE. The latter offers to make payments with a Bitpay credit card or even to order transactions directly from a wallet. However, it will probably be more exciting to see whether Gucci has more plans for ApeCoin. After all, the hype around APE also invokes the close link with the NFTs of Bored Ape Yacht Club, which have become a status symbol among celebrities and crypto millionaires. It is conceivable, for example, that merchandising for ApeCoin could be done in partnership with Gucci. In the medium term, of course, Gucci could also be featured in APE's upcoming Metaverse Otherside.
The fashion trade magazine "Vogue Business" recently revealed in an analysis how the industry is opening up to the crypto industry. In this context, the acceptance of Bitcoin and Co. is only one step. Brands like Philipp Plein are already experimenting with their own NFTs for avatars in online worlds, and Gucci is thinking about giving crypto customers an exclusive pre-order period for new collections. Apparently, people are recognizing the signs of the times and are ready to integrate innovative solutions and opportunities from the crypto industry into the branding policies of fashion houses.
Conclusion: ApeCoin and Gucci as a potential dream team.
ApeCoin (APE) saw a nearly 10 percent increase in its price curve after the Gucci news broke, and the signal has been received. Gucci as a brand is one of those who want nothing to do with understatement, but lay it on thick. Here we find overlaps with Bored Ape Yacht Club, the future Metaverse Otherside and ApeCoin. It would therefore be surprising if Gucci's sole function for APE is as a means of payment.
---