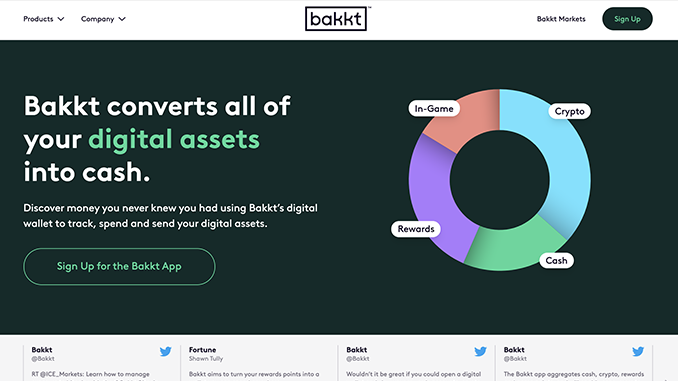 Bakkt has attracted a lot of attention through Bitcoin Futures on traditional exchanges. Now the project announces that it has successfully completed a Series B financing round and can continue its expansion course with the 300 million US dollars it has raised.
In the past crypto year 2019, the Bakkt project scored points with the press and investors with the ultimately successful placement of Bitcoin Futures on the New York Stock Exchange. In the meantime, the Bakkt Bitcoin Futures are also traded in London and Singapore. They are psychologically secured and therefore differ from the Bitcoin Futures on crypto exchanges in one crucial point. With this initial success behind it, Bakkt is now setting out to expand its portfolio. To this end, 300 million US dollars of venture capital were acquired in a financing round, Bakkt proudly reports in a blog post. The general course of Bakkt is now also to go in the direction of end consumers in combination with crypto currencies and other digital values. Previously, the company had focused primarily on institutional investors.
How Bakkt wants to further establish itself as a progressive service provider
Bakkt had already spoken several times about plans for a crypto app in cooperation with the coffee house chain Starbucks and is now putting this project back into the spotlight with new details. Starbucks, with its many millions of daily customers almost everywhere in the world, will continue to be the first application for the Bakkt app for everyday use. But Bakkt now promises more than "just" that you can pay for your coffee with Bitcoin. The app announced for this summer will now bundle digital values of all kinds and make it radically easier to manage your bonus points from airlines, supermarkets and other places. To this end, Bakkt is taking over the service provider Bridge2 Solutions, which organizes a number of loyalty programs for companies with a focus on the USA. Bakkt talks about now managing digital assets of Bitcoin and bonus points worth the equivalent of almost one trillion US dollars in purchasing power. Among the investors in Bakkt are Microsoft and Boston Consulting. In US practice, a Series B financing round is the second to last step before an IPO. So Bakkt also plans to go public itself after a successful launch of its app. With now about 350 employees and a customer base of more than 4,500 companies, Bakkt sees itself on a clear course towards large companies.
Will Bakkt become a pioneer in the field of DeFi?
Bakkt seems to have gained the trust of financially strong investors through its staying power in the approval process for Bitcoin Futures. The plans for the future that have now been published aim in the direction of DeFi and are actually quite unique in the package of an app for everyday use. Whether all this will really work from summer on and be accepted by US citizens remains an open question, as well as whether and when Bakkt will target Germany by Bakkt. But for the moment, Bakkt symbolizes in its very own way how Bitcoin and Co. are moving from a niche topic to the center of society with blockchain technology. In the medium term, such initiatives should also lead to added value at BTC.
---