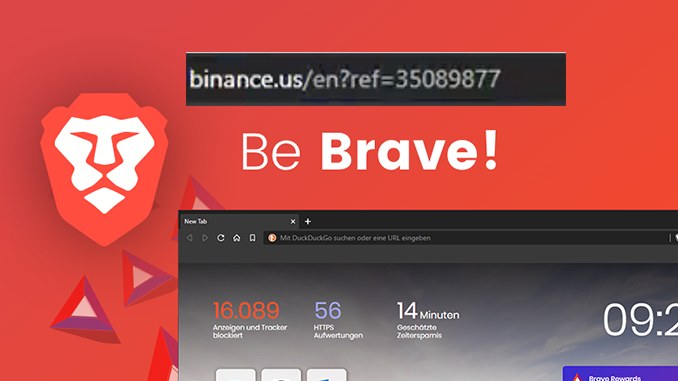 When calling up crypto webpages such as Binance, the Brave browser automatically added a so-called affiliate code to the URL. Brave-CEO Brendan Eich speaks of a "mistake", but the displeasure is great.
With affiliate codes, the operators of webpages usually earn money. If visitors click on larger commercial offers from their online projects, the affiliate code guarantees a revenue share or one-time premiums. So far normal and widespread – but with the browser Brave, affiliate codes have earned justified criticism. Here, the codes were not hidden in a link, but quite brazenly in the autcomplete of the central toolbar. Cryptonator1337 first drew attention to this phenomenon on Twitter.
https://twitter.com/cryptonator1337/status/1269201480105578496
Brendan Eich, the CEO of Brave, reacted quickly and wrote – also on Twitter – about an "error" which is now being corrected. But in the discussion about the incident, Brendan Eich has to take a lot of criticism and malice and an apology is expected. It also turned out that the unwanted affiliate codes of Brave were also attached to other domains such as those of the hardware manufacturers Ledger and Trezor as well as to the crypto exchange Coinbase.
1/ We made a mistake, we're correcting: Brave default autocompletes verbatim "https://t.co/hJd0ePInEw" in address bar to add an affiliate code. We are a Binance affiliate, we refer users via the opt-in trading widget on the new tab page, but autocomplete should not add any code.

— BrendanEich (@BrendanEich) June 6, 2020
Brave and the promise of privacy
Brave advertises to protect the privacy of users better than other browsers. In addition, the use of Brave Basic Attention Token (BAT) provides the possibility of taking tokens. To these central points of the concept of Brave it does not fit at all to press affiliate codes on the eye of users hidden and unasked. Because only Brave earns money from these codes and usually a tracking mechanism is put in place.
Thus, Brendan Eich's attempt to play down the practice to an oversight has little credibility. This autocomplete could not be integrated by Brave by chance and the motivation for it is obviously worth money. Whoever then remembers that Brave last integrated a widget from Binance will be doubly suspicious because there is an official cooperation.
For now Brave recommends to disable Autocomplete directly in the browser here. This setting should become the default setting for Brave in an upcoming update, and the suspicious autocompletes are apparently filtered out manually. A real security hole has not crept in for Brave, but a rather embarrassing attempt to deceive users became obvious. Or did you expect to become a moneymaker for the browser you use when entering a URL? Brave lost trust.
---
Best place to buy Bitcoin: