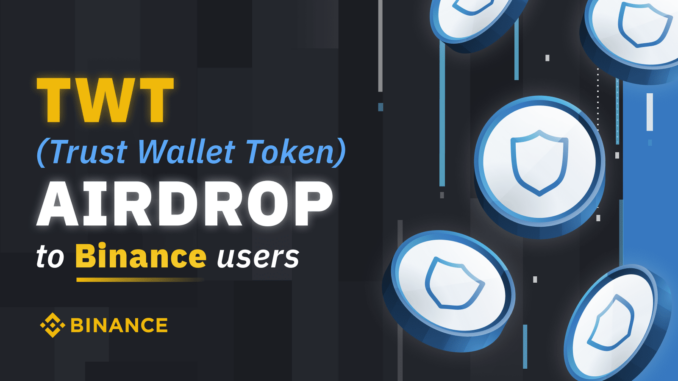 Binance is giving out Trust Wallet Tokens (TWT) for free through an airdrop. There is still time to claim your TWT until January 5, 2021. The prerequisite was trading activity at Binance between December 14 and 21.
In the portfolio of the world's largest crypto exchange Binance, the Trust Wallet plays an important role. This software wallet was acquired by Binance in the summer of 2018 and has since been more closely integrated. This includes that the Trust Wallet now also supports altcoins, which are based on the Binance Smart Chain (BSC). Whether as a kind of Christmas present or as a promotional measure – matching the Trust Wallet, there are currently Trust Wallet Tokens (TWT) for free for many customers of Binance. For this, one had to have completed at least one trade (spot market, margin trading or futures) at Binance between December 14 and 21, 2020. If this requirement was met, 100 TWT should now have been credited to your Binance account under Spot Account, according to a statement.
However, Trust Wallet Token is not traded on Binance yet. 100 TWT is worth around $14 at current rates. Thus, the task is to transfer TWT from the customer's account at Binance to Trust Wallet and from there to a crypto exchange where there are trading pairs for TWT. Binance explains in a blog post how to perform this action. In your Trust Wallet, go to Smart Chain to find out your recipient address. In your Spot account at Binance you select TWT and add the address of the Trust Wallet for Smart Chain. Now you can initiate the transfer and have until January 5, 2021 to do so. If you do not withdraw your Trust Wallet tokens from Binance by then, they will be lost.
Background on Trust Wallet Token
CoinMarketCap shows that TWT is currently trading against Binance Coin (BNB), Ethereum (ETH), Bitcoin (BTC), and Stablecoins. Depending on your preferences, you will find the right crypto exchange and transfer your TWT there to resell it. Trust Wallet Token is designed to be a native token of Trust Wallet. TWT functions as a governance token to have a say in the further development of Trust Wallet, for in-app purchases and also for discounts when using Binance DEX, the decentralized variant of Binance.
The airdrop is primarily about Binance and Trust Wallet demonstrating the power of BSC and attracting new users. TWT has increased significantly in value since its move to the BSC. However, it remains to be seen whether TWT will establish itself in the long term.
Conclusion: Trust Wallet and Binance with a customer-friendly campaign.
If you are already a Binance customer, you should not miss the issue of your TWT, because they are worth cash. The Trust Wallet as a software wallet is equipped for the majority of common cryptocurrencies and is a good option for daily use. In general, Binance once again lives up to its reputation of being customer-friendly and innovative with the airdrop for Trust Wallet tokens. We cannot see a catch to the action.
---
Open a Binance Account here and save 10% on fees for a lifetime.