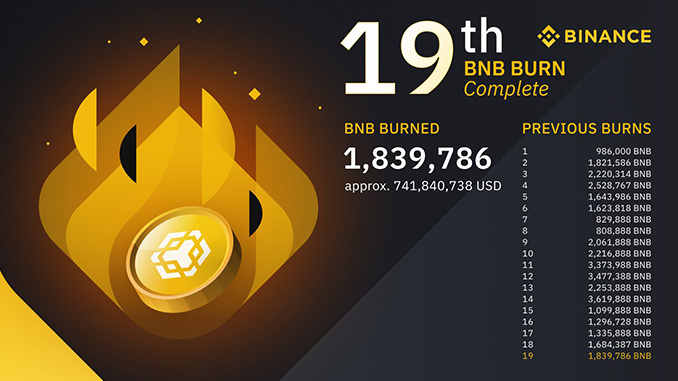 Binance Coin (BNB) has enshrined in its concept to achieve deflation by destroying ("burning") tokens on a quarterly basis. Just over 1.8 million BNB have been taken off the market for $740 million this way.
With a market capitalization of nearly $70 billion, Binance Coin (BNB) has established itself among the world's top cryptocurrencies. Once launched as a discount token for customers of crypto exchange Binance, BNB is now the hub for the ecosystem surrounding the BNB Chain. At the launch of BNB in 2017, Binance had promised to reduce the amount of the original 200 million BNB generated on a quarterly basis through burning until the mark of remaining 100 million tokens is reached. This is to create deflation and increase the value of BNB. Now the deadline was again, as Binance makes public via Twitter, and 1,839,786 BNB were destroyed, which would be worth just under $742 million at current rates.
This is the 19th time Binance has burned BNB in this way. Initially, the amount of BNB to be destroyed was calculated in relation to Binance's quarterly sales. In January 2021, the method was changed for the first time and Binance voluntarily committed to increase the pace of the burning program. Since the final quarter of 2021, an Auto Burn is now used as the basis, where the two factors of block generation in the BNB Chain and average price of BNB are the output factor. In the 18th BNB burn as of Q4 2021, this resulted in just under 1.7 million destroyed BNB at the then value of around 750 million US dollars. Currently, there are still a good 160 million BNB in circulation, so the Burning Program is likely to continue for years until the quantity is reduced to the targeted 100 million BNB.
In general, the price curve of BNB has developed very positively since the beginning of 2021 at the latest. In February 2021, BNB took the psychologically important $100 mark for the first time and has not fallen below it since. In the Binance ecosystem, fees can be saved if they are paid in BNB. Moreover, BNB balances can be used to participate in IEOs at Binance Launchpad and also to earn additional profits via other promotions.
Conclusion: BNB continues its success story
The concept of BNB has proven to be successful for five years now and one of the reasons for this is the consistent implementation of deflation through burning. Currently, BNB is trading at around 420 US dollars and is thus a good distance away from the all-time high of 690 US dollars from May 2021. Those who are in the Binance ecosystem can hardly do without BNB anyway. However, BNB has also proven to be a smart investment for investors who think in the medium and long term.
---
Open a Binance Account here and save 10% on fees for a lifetime.