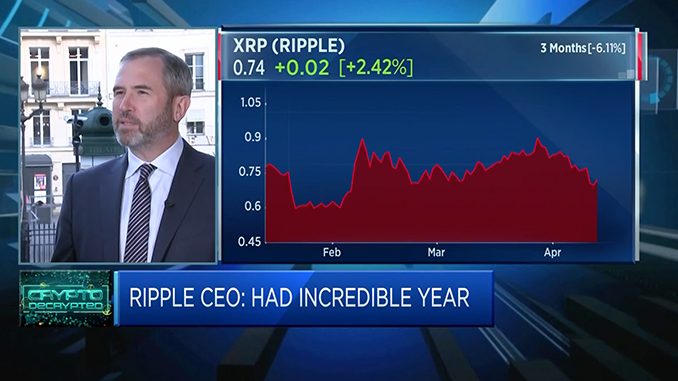 Brad Garlinghouse, chief executive at Ripple (XRP), sees greatly increased chances of success in the lawsuit against the U.S. Securities and Exchange Commission (SEC). The legal battle is going "extraordinarily well" for Ripple, he said.
Is a crypto sensation brewing in the U.S. and can Ripple (XRP) clearly win the lawsuit brought by the SEC? For almost 16 months, the litigants have been fighting each other in court in New York. And since February 2022, the legal community has repeatedly concluded that Ripple may score important stage victories. It sees signs of how the SEC got lost in the evidence. Now Ripple CEO Brad Garlinghouse is also expressing optimism. Garlinghouse told U.S. broadcaster CNBC that the proceedings are "unfolding extraordinarily well."
The "mills of justice grind slowly," Garlinghouse notes, but the situation for Ripple and XRP is now much better than he had hoped at the start of the trial. The SEC wants to prove that XRP should have been sold as a security ("securities") by Ripple only with permission. The agency wants Ripple to pay more than $1 billion in damages. But Ripple argued from the start: XRP is comparable to Ethereum (ETH), it argues, and the SEC specifically exempted Ethereum from a permit requirement. Garlinghouse reminds us that the SEC's position on XRP would place a variety of cryptocurrencies under authorization requirements and could thus stymie the crypto industry in the United States.
Do the SEC and Ripple agree on a deal after all?
Recent developments have focused on internal communications at the SEC. Ripple had requested redactions and criticized redactions. Suspected: The SEC reveals so much about its valuation standards for cryptocurrencies in questionable documents that going public could hinder future actions by the agency. For example, XRP expert Rob is now explaining on Twitter why he thinks a deal between Ripple and the SEC is likely. He says the SEC will do everything it can to keep the so-called juicy "Hinman emails" under wraps. In return, it could also agree behind the scenes to a quick verdict on XRP and forego appeals.
Conclusion: Ripple fancies itself on the legal road to success for XRP
In the CNBC interview, Garlinghouse doesn't spare the fact that Ripple failed to close a single deal with institutional customers in the U.S. in 2021. Outside of North America, however, Ripple reported record results for 2021, making it clear that Ripple, too, finally wants legal clarity for XRP in the US. It seems as if the ball is in the SEC's court for a quick settlement, but the SEC is still struggling to admit an otherwise imminent disgraceful defeat in court. In any case, XRP was able to record an above-average 9 percent plus in its price curve over the last seven days – investors therefore also assess the chances of a USA comeback for Ripple and XRP optimistically.
---
Best place to buy Bitcoin and Ripple (XRP):