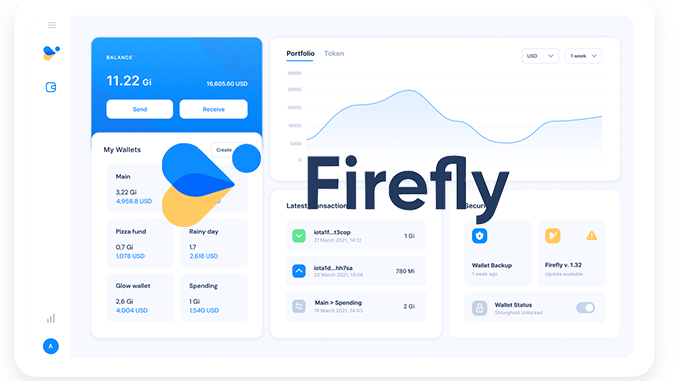 The official IOTA wallet Firefly is now available in version 1.5. It is a prerequisite for the staking of Assembly, which will continue from Friday (April 22). Mobile versions of Firefly are still pending.
IOTA offers from this Friday again the possibility to receive Assembly (ASMB) for credits by staking. The first staking period in IOTA's history gave Shimmer (SMR) in addition to Assembly from late December to late March, and the IOTA Foundation expressed satisfaction with the results of the promotion. As promised, staking for ASMB will now resume and to participate, the official IOTA wallet Firefly version 1.5.0 or higher is required. This is now available for download, as the IOTA Foundation announced via Twitter.
Since users immediately noticed some minor flaws, version 1.5.1 of IOTA Firefly was immediately added in the night to Wednesday. Individual users reported via Twitter that inconsistencies had occurred when transferring account balances to the new versions of Firefly. In terms of content, what is new for the IOTA wallet Firefly now is to be able to distribute Assembly, Shimmer and, if necessary, further new tokens in the ecosystem to sub-accounts. Since IOTA has chosen a completely different solution for its network with Tanglenet than conventional blockchains, the official wallet Firefly is in practice without alternative.
IOTA Firefly wallet still not available as an app for smartphones
That is why investors are getting increasingly annoyed at having to wait for mobile versions of Firefly for a year now. These were supposed to be released at the launch of IOTA 1.5 aka Chrysalis, but are still not ready. So Firefly is currently only available for desktop computers running MacOS, Windows or Linux for download here.
The details about the staking of Assembly at IOTA are listed here. Assembly should still receive a mainnet in 2022 and could then also develop value through free trade. In the future, Assembly will use IOTA technology in the areas of DeFi, blockchain gaming and NFTs.
Bottom line: for staking of Assembly at IOTA wallet update Firefly now.
It is usual small steps in which something moves at IOTA. Thus, nothing changes in the official wallet Firefly in versions 1.50 and 1.5.1 for the end user that would be apparent at first glance. Improvements have taken place under the hood and it is to be hoped that the minor flaws will not turn out to be serious after all. To qualify your IOTA for Assembly's staking, you need to install Firefly in one of the new versions and then register your IOTA there for the staking that starts on Friday.
---
Best place to buy Bitcoin and IOTA: