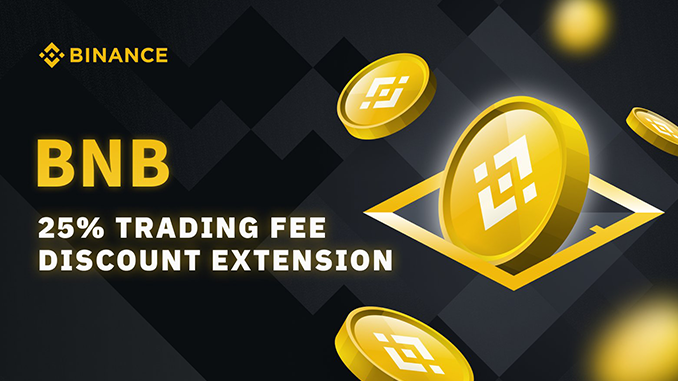 Binance is giving its customers a gift for the crypto exchange's 4th birthday: those who use Binance Coin (BNB) to pay fees will get a 25 percent discount instead of 6.75 percent until July 13 next year.
When Binance celebrated its launch in 2017, Binance Coin (BNB) also launched at the same time. With an ICO of BNB, Changpeng Zhao and his team had pre-funded Binance. And Binance Coin came with a special feature from the start: BNB was to guarantee early investors deep discounts on fees when trading crypto on Binance, a whopping 50 percent in the first year. The original plans were that the discount would be reduced by BNB to 6.75 percent in the fourth year of Binance's existence. But now Binance has changed its mind, announcing via service bulletin: It will remain at the current 25 percent fee discount when paying with BNB until July 13, 2022, saying this is to thank Binance customers and supporters of Binance Coin.
This is why BNB is a must-have for Binance customers.
Binance Coin is considered the forefather of so-called discount tokens. Other crypto exchanges such as FTX with FTX Token (FTT) or Huobi with Huobi Token (HT) have also copied the model. Those who trade regularly on Binance will hardly miss the offer to save on fees through BNB.
But even as a pure investment, BNB has already paid off for many investors. From February to May 2021, Binance Coin experienced an impressive rally, which led from under 100 US dollars to over 600 US dollars per BNB. This can be attributed in part to the growing importance of the Binance Smart Chain for DeFi, where BNB scores as a native token.
Another argument in favor of Binance Coin is the quarterly burns. Initially, 200 million BNB were generated and Binance has promised to spend a portion of its profits to buy back and burn BNB. Thus, Binance Coin will be automatically reduced to 100 million tokens in the coming years; in Q1 2021, for example, BNB were withdrawn from circulation for nearly $600 million.
Bottom line: Binance underscores importance of BNB.
At Binance, business is excellent and the pace of innovation remains high. Binance is happy to create loyal customers through BNB. By improving the terms of the promises made to BNB, Binance underlines the important role of its own token for the entire ecosystem.
---
Open a Binance Account here and save 10% on fees for a lifetime.