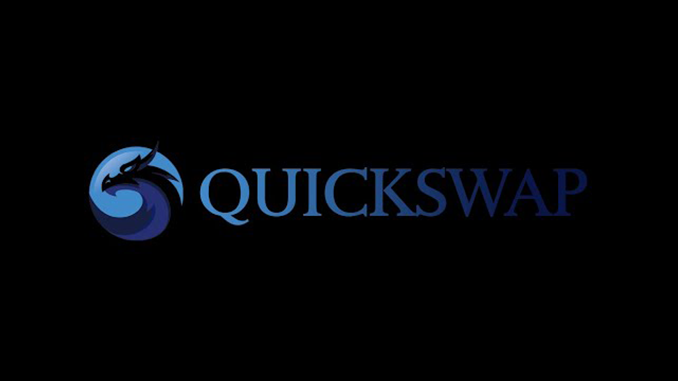 QuickSwap is a young decentralized crypto exchange (DEX) modeled after Uniswap. Find out what makes QuickSwap different and better than Uniswap here.
At the heart of Decentralized Finances (DeFi) are decentralized crypto exchanges that use smart contracts to process all transactions and where no central coordinator can intervene. Among these DEX, Uniswap is still the market leader, but Uniswap Version 3 is experiencing tough competition. The latest challenger is called QuickSwap. According to its own data, QuickSwap currently has close to $1 billion in cryptocurrencies deposited as liquidity, and weekly volumes exceed $2 billion and rising.
Background on QuickSwap (QUICK).
There are simple reasons behind QuickSwap's growing success: Trading there is much faster than with Uniswap and involves much lower fees. This is made possible by the fact that QuickSwap relies technologically on Polygon's blockchain solutions (MATIC) in the background. This enables tens of thousands of transactions per second and each one of them costs less than 1 cent in fees. By comparison, Uniswap, with Ethereum as its technological basis, has to cope with ETH's blockchain, where only a good 10 transactions per second are possible and fees of over $10 are often incurred.
Those who already know Uniswap will also get along well with QuickSwap. The second trick of QuickSwap is to use the open source code of Uniswap for the automated transactions. This means that you can use modules that have been extensively tested for bugs and you hardly have to develop anything yourself. In short, QuickSwap is Uniswap based on blockhains from Polygon instead of Ethereum.
The native token of Quickswap is called QUICK and has already been quoted at well over 1,000 US dollars in the meantime. As with other DeFi tokens such as UNI (Uniswap) or SUSHI (SushiSwap), the ups and downs of QUICK's price curve are closely tied to how volume and liquidity develop at QuickSwap.
Conclusion: QuickSwap convinces in practice
Actually, it's surprising that QuickSwap doesn't already register more market share in the DeFi space than the roughly 3 percent that CoinMarketCap currently measures. In terms of fees and speed, QuickSwap is clearly superior to Uniswap. In the range of offerings, the three typical DeFi use cases are represented at QuickSwap with crypto exchanges, yield farming and liquidity mining. So far, the competition from PancakeSwap (CAKE) with DeFi on the Binance Smart Chain is a bit broader. In our opinion, QuickSwap is a very compelling place to start for DeFi. Investors should also keep an eye on Polygon (MATIC) in this context, where the QuickSwap use case is becoming a reference and, last but not least, prominent investors are are advertising.
---
Open a Binance Account here and save 10% on fees for a lifetime.