With a 50 percent increase in the last 24 hours and more than 500 percent increase since the beginning of the year, Binance Coin (BNB) is an achiever among the major cryptocurrencies. What's behind it?
The days when Binance Coin (BNB) was trading below US$50 and thus in double digits are apparently over. The native cryptocurrency of the world's major crypto exchange is currently experiencing an impressive rally and has soared to a new all-time high of well over 250 US dollars within a few days. This is associated with a market capitalization of around 40 billion US dollars for BNB, which currently marks the third place among the most important cryptocurrencies. There, Binance Coin now even leaves the stablecoin Tether (USDT) behind and sees only Ethereum (ETH) and Bitcoin (BTC) in front of it. We can see several reasons why Binance Coin is the altcoin of the month:
Binance Coin is designed as a discount token and guarantees discount in fees for customers on Binance. With the golden winter for Bitcoin and co, an enormous number of new customers are coming to Binance and stocking up on BNB to save on fees.
Binance Coin has its own blockchain, the Binance (Smart) Chain. This is increasingly used for DeFi projects, because with Ethereum (ETH) the transaction fees are exploding and are simply too high at 20 US dollars and more for smaller deals. In the technologically superior BSC, transactions only cost pennies. DeFi platforms like PancakeSwap and Venus have caught up in volume and popularity to established platforms like UniSwap and SushiSwap, which are still based on the Ethereum blockchain. Binance Coin is also increasingly benefiting from this.
BNB is increasingly actively promoted with another strong argument: regularly burning Binance BNB to avoid inflation threats in the first place and actively supporting the value of Binance Coin. In January, Binance reported a new record in burning BNB.
FOMO on Binance Coin?
In crypto jargon, FOMO (Fear Of Missing Out) is when an atmosphere is created where investors get the feeling that they don't want to miss out on a trend. FOMO certainly plays its part in BNB's spectacular price performance, but the fundamental pros for Binance Coin are just as real. The coming weeks will show whether price corrections will follow or BNB will continue to march into positive territory.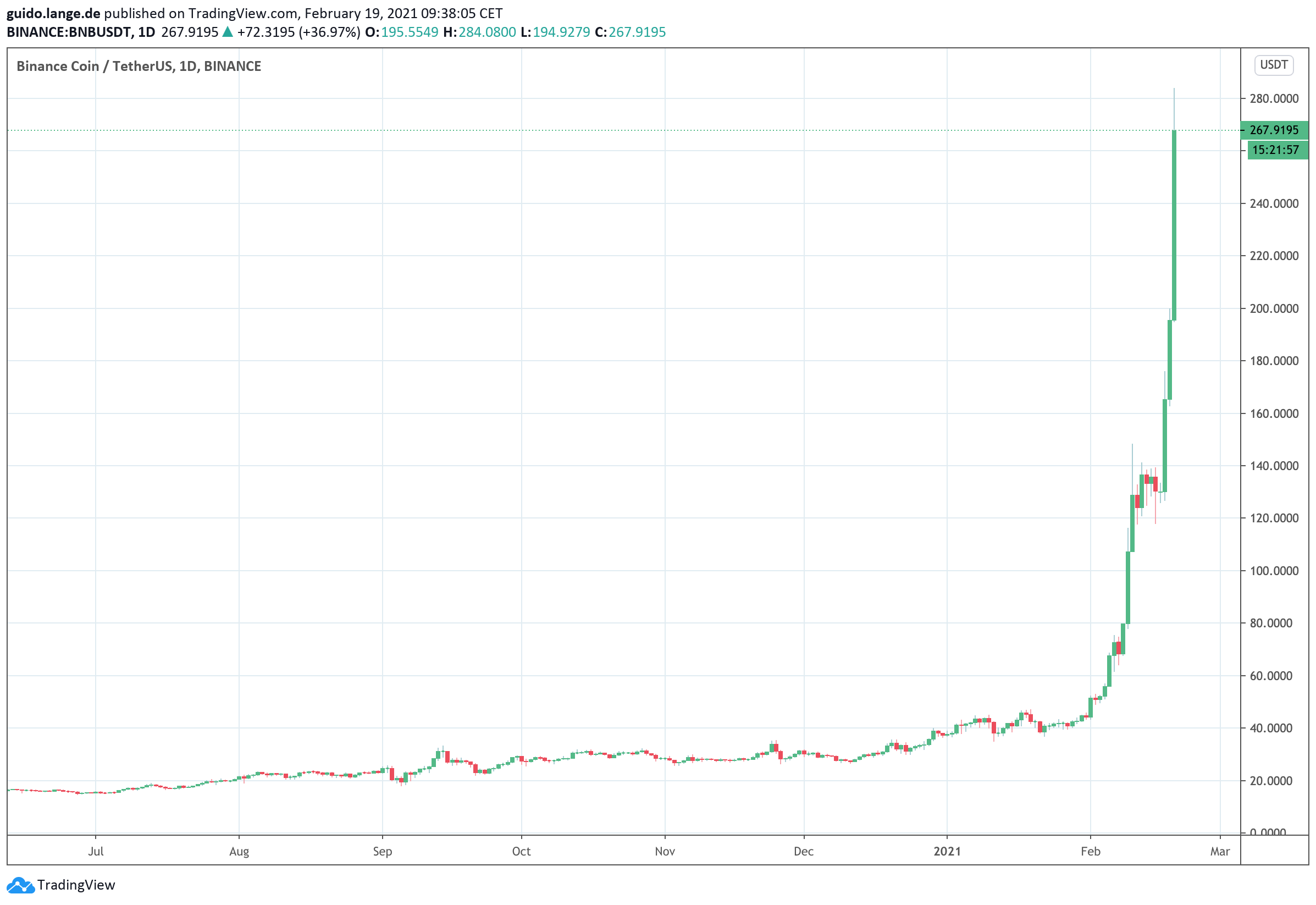 Conclusion: BNB and Binance – a success story
Binance CEO Changpeng Zhao likes to remind people on Twitter these days how he founded the crypto exchange in 2017 and financed this at the time by selling BNB. 15 million US dollars flowed in 2015 for 100 million BNB – a downright ridiculous sum in hindsight. Binance has rapidly earned its position as the largest and most important global crypto exchange and continues to innovatively set the pace. Of course, this is also rubbing off on BNB. By the way, Binance is not thinking about an IPO like its competitor Coinbase; it wants to remain flexible. Thus, BNB continues to be the easiest way to participate in Binance's success.
---
Open a Binance Account here and save 10% on fees for a lifetime.