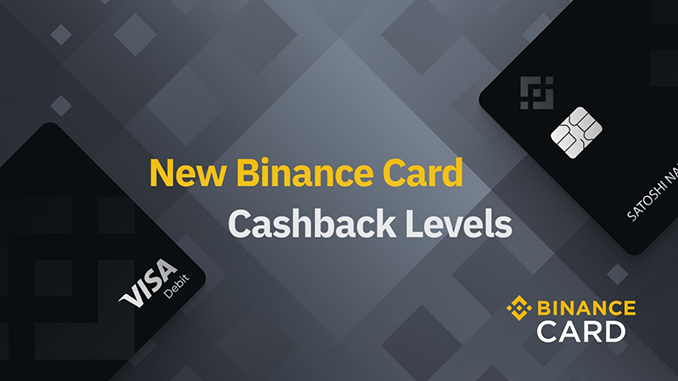 Users of the Binance credit card can now look forward to improvements in the cashback program. The number of underlying Binance Coin (BNB) will be reduced by a factor of ten.
With up to 8 percent cashback, the Binance credit card has already scored since its EU debut in the fall of 2020. For this credit card, which is also attractive in other respects, the percentage cashback users receive depends on how many Binance Coin (BNB) you have held in your account on average within the last 30 days. Probably also in view of the impressive price gains of BNB in recent months, Binance has now drastically lowered the requirements for the cashback. In an announcement, Binance defines the new rules that apply with immediate effect:
Already from 1 BNB (previously 10) on your Binance account you get 2 percent cashback.
3 percent cashback is available if you hold 10 Binance Coin.
With 40 BNB you are level 4 in the cashback program with the Binance credit card with 4 percent.
Level 5 and 5 percent cashback is reached with 100 BNB.
For 6 percent cashback you have to HODL 250 BNB on average.
The highest level with 8 percent cashback is reached at 600 BNB (previously 6000) with the Binance credit card.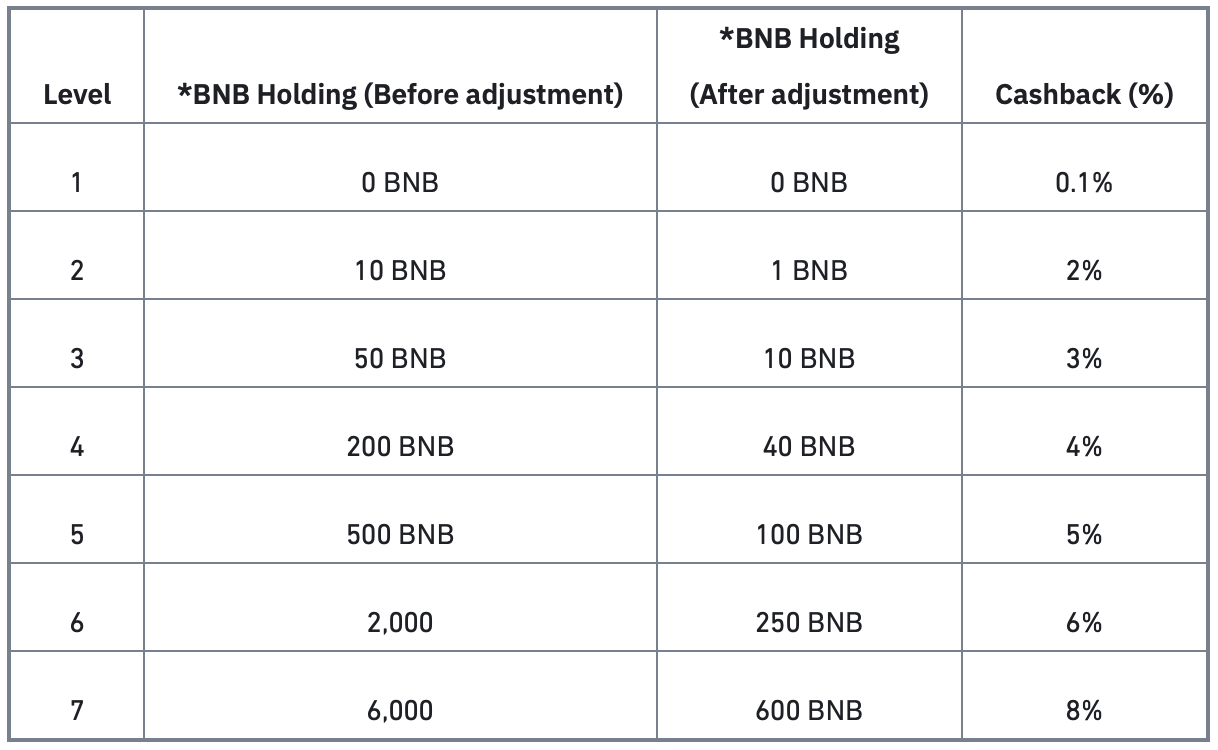 BNB is currently priced at around 400 Euros. So if you don't have a problem investing even about 240,000 Euros in BNB, you can plan on the maximum rate of 8 percent cashback when using your Binance credit card. What remains unchanged is that without BNB, only 0.1 percent cashback is part of the Binance credit card package.
We have thoroughly checked the Binance credit card and even before the customer-friendly readjustments in the cashback program, we rated it as a convincing offer. If you look at the price curve of BNB, which has risen steeply since February from 100 US dollars with currently almost 500 percent, the readjustment in the cashback program was perhaps even overdue. One of the shortcomings of the Binance credit card is that while Bitcoin and major altcoins like Ethereum (ETH) and BNB are held for coverage on the wallet associated with it, direct payment in crypto is not possible. Instead, during payment transactions, your crypto balance is exchanged into euros in the background at the current rate, but without any additional fees. Everything you need to know about the Binance credit card is also available from us in the video:
https://youtu.be/NUd7yfbi-Sg
Conclusion: Binance Credit Card convinces with Cashback
If you don't have a Binance credit card yet, you can easily request one for free via the Binance website. Its big plus is the cashback program, especially for larger reserves in BNB, and the fact that you are always liquid with it in everyday life through balances in common cryptocurrencies.
---
Open a Binance Account here and save 10% on fees for a lifetime.