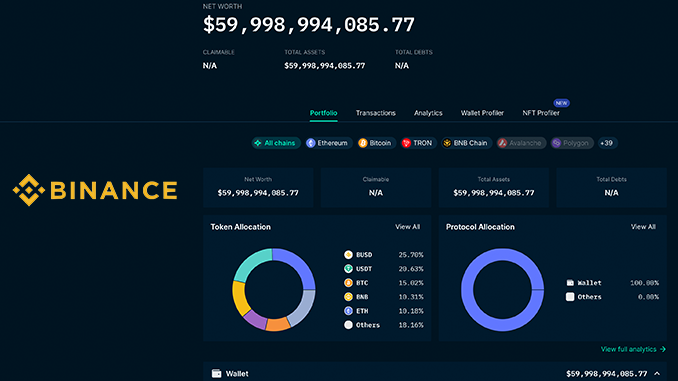 The world's largest crypto exchange Binance is experiencing an unusually strong wave of withdrawals, with around $4 billion in capital withdrawn in recent days. What's behind the trend?
When crypto exchanges show unusual capital flows, the alarm shrills among customers. Because the most recent example of the insolvent platform FTX showed that those who still quickly withdrew their balances in Bitcoin and Co. were able to prevent their money from disappearing into the bankruptcy estate. Against this background, the excitement that is currently building up around the market leader Binance is understandable. Data analysis by Nansen shows that in the last 24 hours alone, withdrawals from Binance compared to deposits resulted in an outflow of more than 1 billion US dollars, and over the past week, deposits have shrunk by almost 4 billion US dollars. Is Binance now also facing liquidity problems and a continued withdrawal of capital?
Binance CEO Changpeng Zhao (CZ) sees the situation as relaxed, yet feels compelled to explain and comment via Twitter. CZ attributes temporarily delayed transactions in U.S. dollars to bank working hours; they are now said to be back to business as usual. CZ recalls that Binance processed more withdrawals during the hot phases of the crash of FTX and before that in May when the ecosystem around Terra (LUNA ) collapsed, than currently. It's just generally the case that some days more money is deposited into Binance than withdrawn, CZ said, and right now the ratio is reversed. However, Zhao does not want to ignore the possible domino effects such as a bank run and goes further.
He uses the term "FUD" (Fear, Uncertainty and Doubt) several times, which in crypto jargon stands for maliciously spread rumors. Binance customers may be spooked by a media report that the crypto exchange is facing charges of money laundering and other illegal activities in the U.S., according to CZ. CZ also wants to brush aside skepticism regarding the recently presented external audit at Binance and therefore interprets the massive withdrawals as an (involuntary) "stress test" that Binance is currently passing.
Conclusion: Is Binance in financial trouble?
CZ has made a name for himself as an honest spokesperson for Binance, who does not spare self-criticism if need be. But FTX also had a darling of the crypto scene at the helm in Sam Bankman-Fried, whose distressed empire turned out to be a house of cards built on fraud. In this respect, it would be naïve to rule out slippage at Binance. However, Binance's reported reserves still stand at nearly $60 billion, and payouts continue to be processed swiftly and reliably, according to customers. What is becoming clear, however: With the elimination of its competitor FTX, Binance's market leadership has increased once again and its prominent position almost automatically leads to the rumor mill pouncing on Binance.