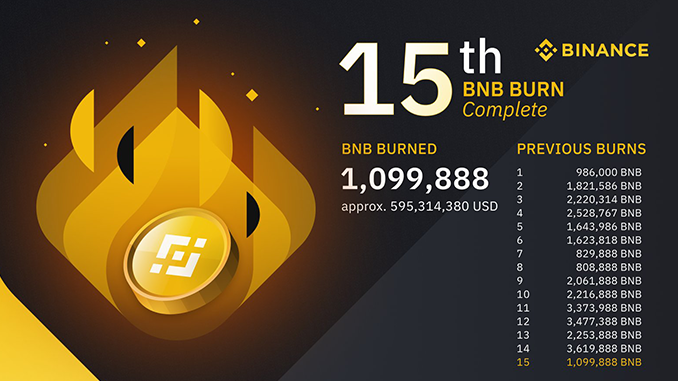 Crypto exchange Binance has destroyed (burned) Binance Coin (BNB) for the 15th time as in previous quarters. This mechanism is intended to support the value of BNB and at the same time suggests the business performance of Binance.
Always at the beginning of a new quarter, the crypto exchange Binance draws a line under the previous quarter. This is also done by the transparently verifiable burning ("Burning") of Binance Coin (BNB). In January, Binance had reported a record number of BNB during this regular burning, now in April it is a record amount in US dollar terms according to current prices. Just over a million BNB worth nearly $600 million were irrevocably destroyed, Binance reports in review of Q1 2021 via Twitter.
When Binance funded its inception in 2017 through a BNB ICO, it came with a promise to burn 20 percent of Binance's profits into BNB each quarter. This was intended to guarantee value for BNB with significant profit opportunities. Of the 200 million BNB originally generated, there are now just under 170 million BNB left, and the quarterly burning program is to continue until then, when there are only 100 million BNB left. Roughly speaking, burning has already destroyed a good 15 percent of all BNB since 2017.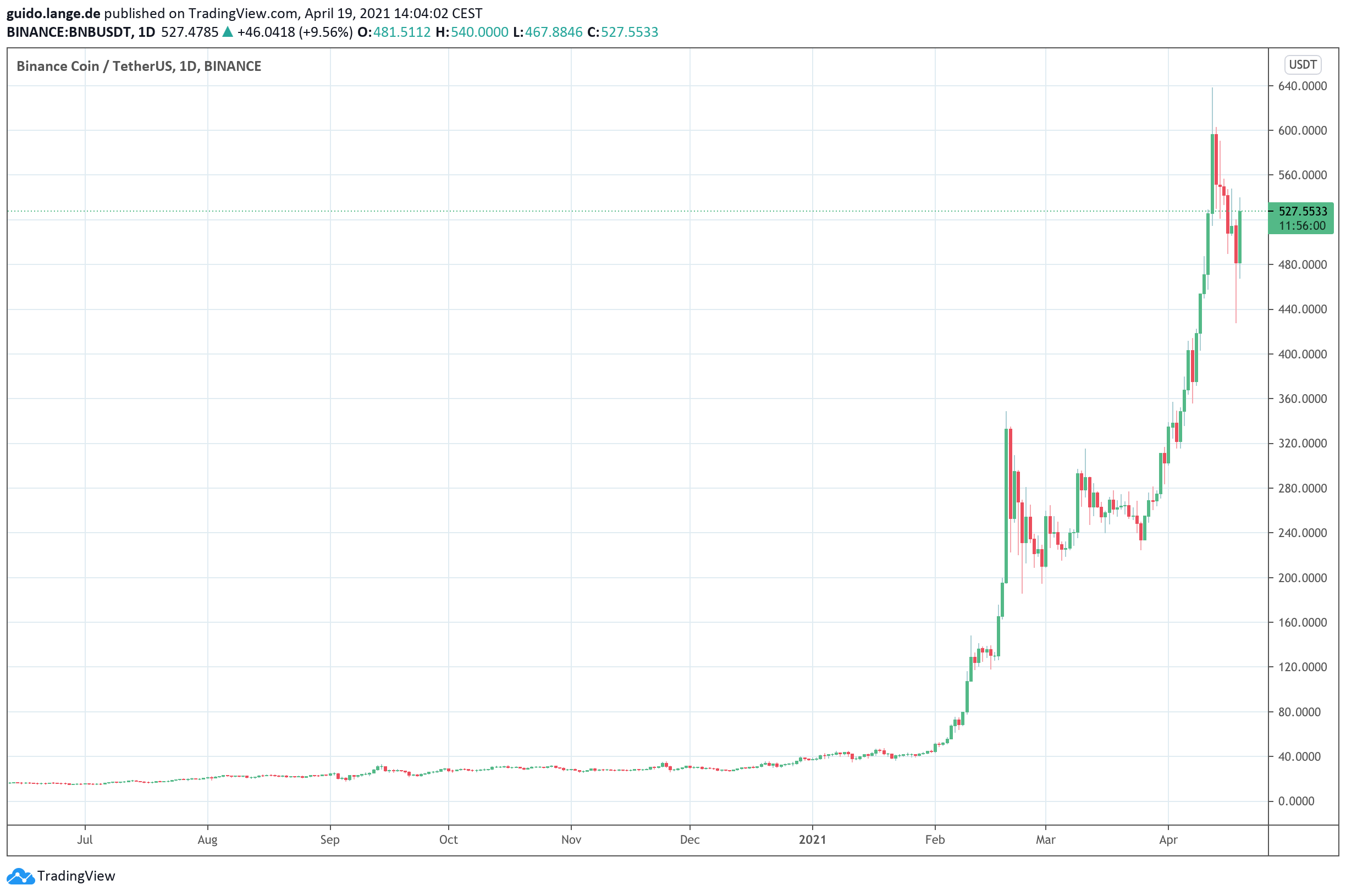 Burning of BNB – what Binance chief CZ has to say about it
Binance CEO Changpeng Zhao had said in early 2021 that the strict 20 percent mechanism in burning BNB would be raised to take more BNB off the market to act faster. So since then, it is no longer possible to mathematically infer exactly the business performance of Binance. However, if we take the old 20 percent rule as a lower benchmark, Binance should have posted around $3 billion in profit in Q1 2021. By comparison, the US cryptoborse Coinbase, which has just gone public itself, had not even achieved a third of Binance's profits for the first quarter of 2021 in preliminary figures. Thus, BNB's current market capitalization of just over $80 billion (Coinbase shares: $68 billion) leaves plenty of room for upside.
However, CZ, as head of Binance, sees other reasons than the comparison with Coinbase for more important with regard to BNB in his quarterly letter. He emphasizes how a whole ecosystem of DeFi projects has developed around BNB as a native currency. As such, the Binance Smart Chain and BNB are increasingly catching up with Ethereum (ETH), which CZ sees in indicators such as daily transactions on the BSC, registered BSC addresses, and the growing number of DApps. So, between the lines, the Binance CEO sees good chances for BNB to challenge Ethereum's position as the second most important cryptocurrency by market capitalization in the near future – provided Bitcoin keeps itself and the overall market at record levels.
Conclusion: BNB is becoming more and more indispensable
Back in February, we told you in detail about BNB's all-time highs at the time and the triumph of the Binance Smart Chain in the DeFi division. Since then, the price of BNB has doubled again. In addition, Coinbase's IPO compared to Binance's quarterly results has shown who is calling the shots among crypto exchanges. There are indications that BNB is still undervalued at currently around 530 US dollars and that the attack on Ethereum in the discipline of market capitalization is in the air.
---
Open a Binance Account here and save 10% on fees for a lifetime.