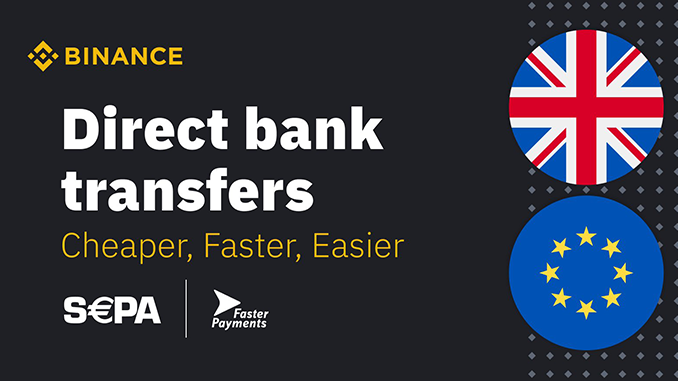 The crypto exchange Binance has teamed up with Clear Junction, a UK registered financial services provider, to enable customers to make deposits and withdrawals in euros and pounds sterling by bank transfer.
Binance, the world's largest crypto exchange, has so far had the disadvantage for customers from Germany that it was only possible to operate with euros to a very limited extent there. This is now changing, as Binance is now cooperating with the financial services provider Clear Junction. As a result, inpayments and outpayments in euros are now possible via the SEPA system and simple bank transfers, writes Binance in a service post. At only EUR 1.50 per transfer, the fees are set very low. The limits of EUR 50,000 per day and EUR 500,000 per month should also probably suffice for most private investors.
How to start with Euro at Binance
First of all, of course, you need a customer account with Binance. To take advantage of the new option of making inpayments in euros, you must first verify your identity and have your address confirmed. You can do this under Account and then under Verification process. Have your identity card ready and a current bill or account statement with your address. The process is user-friendly and completed online in less than 15 minutes. In our experience, the confirmation from Binance usually comes within one day. The procedure is necessary because of rules to prevent money laundering.
If you are registered with Binance with your real name and home address, you can now deposit euros. This option can be found in the menu item Spotwallet and then Deposits in Fiat. Here you select Bank transfer and enter the amount you wish to transfer. From this amount 1.50 Euro will be deducted for fees, which is much cheaper than credit card payments, for which a fee of 3 percent is charged. When you click on "Continue", you will be shown an IBAN account number from Clear Junction to which you can transfer the money. It will then normally be credited to your account at Binance within two working days and you can use it there to buy Binance and Co.
Conclusion: Binance finally also Fiat-friendly
With the new service of deposits and withdrawals in euros at low fees, Binance is fulfilling a wish of many customers. Not only do you save money, but also time. We can't see any hitch in the offer.
---
Open a Binance Account and save 10% on fees for a lifetime. Just use this link.