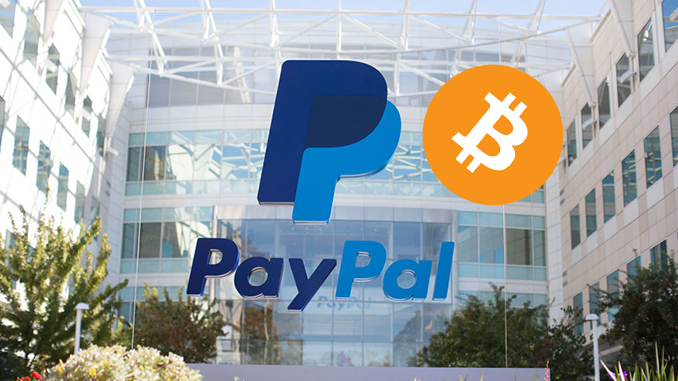 PayPal with more than 300 million users apparently wants to integrate the buying and selling of crypto currencies into its services in the near future. According to a US media report, PayPal and its subsidiary Venmo are hoping for new sources of income.
In the discussion about the potential of Bitcoin and Co. the question of acceptance in society plays an important role. In Germany, for example, surveys show that only 20 percent of the population still have a positive attitude towards crypto-currencies. But many experts are convinced that crypto-currencies will quickly reach everyone if they make the step into already used online services. The payment service provider PayPal reports a good 25 million users in Germany and more than 300 million worldwide. Therefore it is exciting if it is true what is reported from the USA with reference to insiders. According to this, PayPal wants to take the offensive in the topic of crypto currencies and integrate the purchase and sale of Bitcoin and various Altcoins natively into its services.
Crypto at PayPal – how could this look like in practice?
PayPal already has business connections with some crypto exchanges such as Coinbase and Bitstamp, but there they use external service providers to enable deposits and withdrawals in Fiat. What PayPal is planning now, might follow the concept in large parts, which can be experienced already now at Revolut. With a user account at Revolut, Bitcoin and some leading Altcois can be bought and sold. But there are steep fees to be paid. But the customers do not have to deal with crypto exchanges, but can exchange their crypto credits at any time back into Fiat. Other innovative FinTech companies such as Cash App and Robinhood also report millions in sales with their krypton offers.
So PayPal will want to make it radically easier to get hold of Bitcoin and Co. To this end, cooperations with crypto exchanges are being prepared in the background so that sufficient liquidity is available for the large customer base. Anyone who buys BTC from PayPal in the future, for example, will get "real" Bitcoin. According to the whistleblowers, a PayPal Wallet for crypto is in preparation so that these can be stored securely at PayPal. As far as is known so far, the service will be limited to buying and selling crypto currencies and will not yet aim at using crypto directly as a means of payment or accepting payments in crypto. From a technical point of view, however, this would not be particularly difficult to achieve with a PayPal Wallet and could therefore follow. In addition to PayPal as the flagship, the subsidiary Venmo (so far only active in the USA) is also planning to start trading with crypto.
PayPal: Turned away from Facebook Libra – share in the plus
In the summer of 2019 PayPal was still one of the founding members of the Facebook Libra project, but quickly turned away from it. CEO Dan Schulman is an avowed Bitcoin investor and sees great future potential in block chain technology and crypto currencies. For PayPal to debut as an active service provider for its customers in the crypto trade, technological expertise must be built up there. Job advertisements prove that this has already happened. Neither PayPal's confirmation nor its denial of the imminent launch of crypto offers has been made so far. Meanwhile, the PayPal share is continuously moving in the plus column and could receive a further boost if new offers generate new income in the form of fees.
---
Best place to buy Bitcoin (even with PayPal):