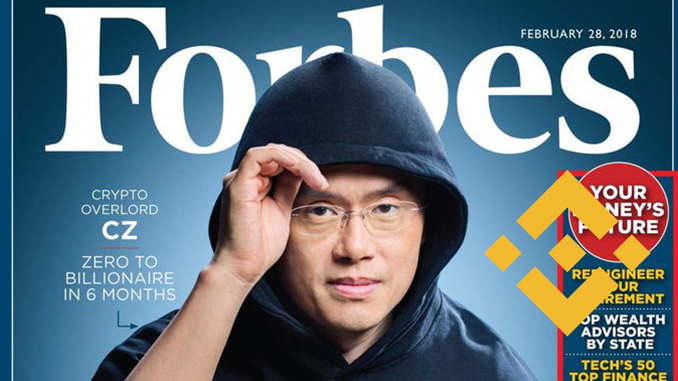 The world's largest crypto exchange Binance is buying into Forbes with 200 million US dollars. The tradition-steeped media company wants to use the money to raise funds for an IPO and to remain editorially independent.
The world's leading crypto exchange by revenue and number of customers Binance makes a symbolic investment: for 200 million US dollars Binance buys shares in the media company Forbes, which was founded in 1917 and is one of the globally known media brands. Binance CEO Changpeng Zhao (CZ) confirmed corresponding reports such as from CNBC via Twitter and assures that the independence of the editorial offices at Forbes remains unaffected. Binance often sees itself treated unfairly by traditional financial media. But CZ notes via Twitter that critical reporting is necessary for such troubled industries as crypto.
Accordingly, Binance sees its entry into Forbes as a strategic move for the future Web3, saying the investment will enable the strong Forbes brand to prepare for new distribution channels. In concrete terms, Forbes wants to go public this year if possible, and to do so it wants to join forces with a so-called SPAC company. Such a Special Purpose Acquisition Company is already listed on the stock exchange with the primary aim of making it much easier for a future owner to go public. Forbes is slated to go public under the ticker symbol FRBS, and the $200 million from Binance will be used to help fund the SPAC acquisition. Binance expects to take two of the nine seats on Forbes' board of directors.
Forbes is known, for example, for its annual lists of the world's richest people, in which CZ itself appears high up with an estimated fortune of US$96 billion. By its own account, Forbes reaches more than 150 million people worldwide through its magazines, conferences and web presences. According to insiders, Binance had evaluated three major media companies for a possible investment before choosing Forbes.
Bottom line: Binance wants to expand beyond crypto industry
With 104 years of history, Forbes is a dinosaur of the media industry, and not just by U.S. standards. In this respect, the entry of Binance as a "nouveau riche" investor from outside the industry marks a remarkable step and will certainly be viewed critically from the outside and internally in the editorial offices. But on the other hand, Binance has already proven with the acquisition of the data service CoinMarketCap that it is looking for opportunities to broaden its business model around the core business of crypto exchanges. With the weighty share in Forbes, Binance and CZ are becoming presentable in the US, and this factor may also have played a role in the decision.
---
Open a Binance Account here and save 10% on fees for a lifetime.