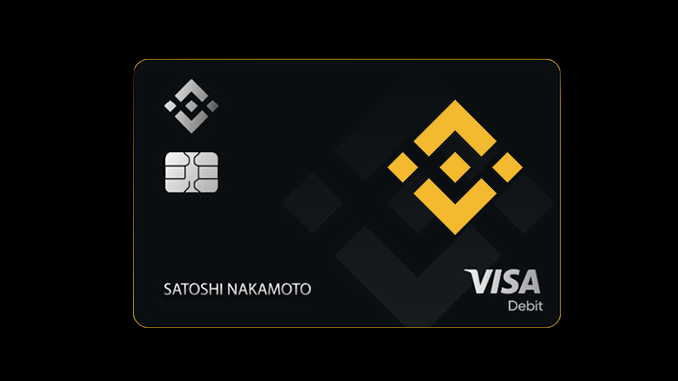 The entry of the world's largest crypto exchange Binance into the credit card business can now be understood in real terms: Binance Visa crypto-based credit cards are now shipping in the EU.
Long awaited and now finally a reality: whoever is a Binance customer as an EU citizen can also conveniently link their customer account and credit there with a Visa credit card. As the world's leading crypto exchange announced via blog post, the sending of Binance Visa credit cards in the EU has begun. At the same time, Binance made it known that these credit cards now support Ethereum (ETH). Previously, coverage was limited to Bitcoin (BTC), Binance Coin (BNB), Binance USD (BUSD) and Swipe (SXP). Crypto financial services provider Swipe had been acquired by Binance in the summer and now serves in the background as the publisher of the Binance exclusive offering.
Binance credit card – what you need to know
Those who have previously registered for the Binance credit card can now initiate delivery via the Card Wallet at Binance or track the shipment status there. But also new and existing customers can request a Binance Visa card. The conditions are quite attractive:
For the time being until 2021, the Binance Visa Credit Card is completely free of charge.
The daily limit for use is 8,700 euros and at the ATM 290 euros.
In addition to deposits in euros, BTC, ETH, BNB, SXP and BUSD are directly supported.
When using the Binance Visa credit card, balances on the card wallet in the mentioned cryptocurrencies are exchanged into euros at the real-time rate.
You can decide for yourself whether Bitcoin or one of the altcoins is preferred.
The Binance Visa credit card can also be linked to Google Pay and Samsung Pay.
Via a cash back program, everyone who holds Binance Coin on the card wallet can enjoy bonuses. Up to 8 percent cash back is possible, but this also requires 6,000 BNB and more as a reserve.
All in all, Binance is probably the most interesting provider of credit cards in the EU in interaction with Bitcoin and Co. However, the biggest downer was already noticeable in advance: Paying directly with crypto where Bitcoin or Ethereum is accepted, for example, is not possible. The exchange into euros, which takes seconds and is done upstream, cannot be bypassed.
Conclusion: Binance credit card makes sense
Binance does not have to hide in comparison with other so-called crypto credit cards. On the contrary, the conditions are more favorable than those of the Coinbase credit card, for example. Since trying out the offer at Binance does not cost you anything, we can recommend it to you with a clear conscience. In fact, the Binance Visa credit card is another proof of how Bitcoin and its relatives can be used conveniently and smoothly in everyday life.
---
Open a Binance Account here and save 10% on fees for a lifetime.