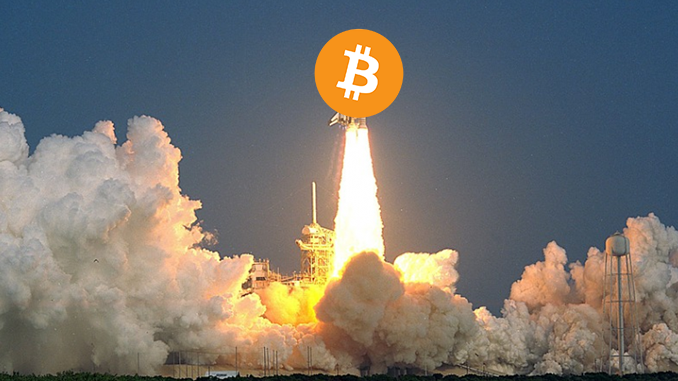 Bitcoin's price surpassed previous all-time highs of around $20,000 on Wednesday evening and BTC is trading at just over $22,000 on Thursday morning. Why is Bitcoin more expensive than ever and is the trend continuing?
Champagne mood in the crypto scene: Bitcoin (BTC) has virtually pulverized its previous all-time highs on crypto exchanges worldwide and is trading for over 22,000 US dollars this Thursday morning. This means that Bitcoin is currently worth around 10 percent more than its previous all-time highs of 20,000 US dollars. When Bitcoin last scratched the $20,000 mark for the first time almost exactly three years ago on December 17, 2017, the trend proved to be less than sustainable and the price of BTC was trading back at a comparatively weak $10,000 just six weeks later. Thus, the current jubilation is already mixed with worries about whether a Bitcoin price slump could repeat itself this time.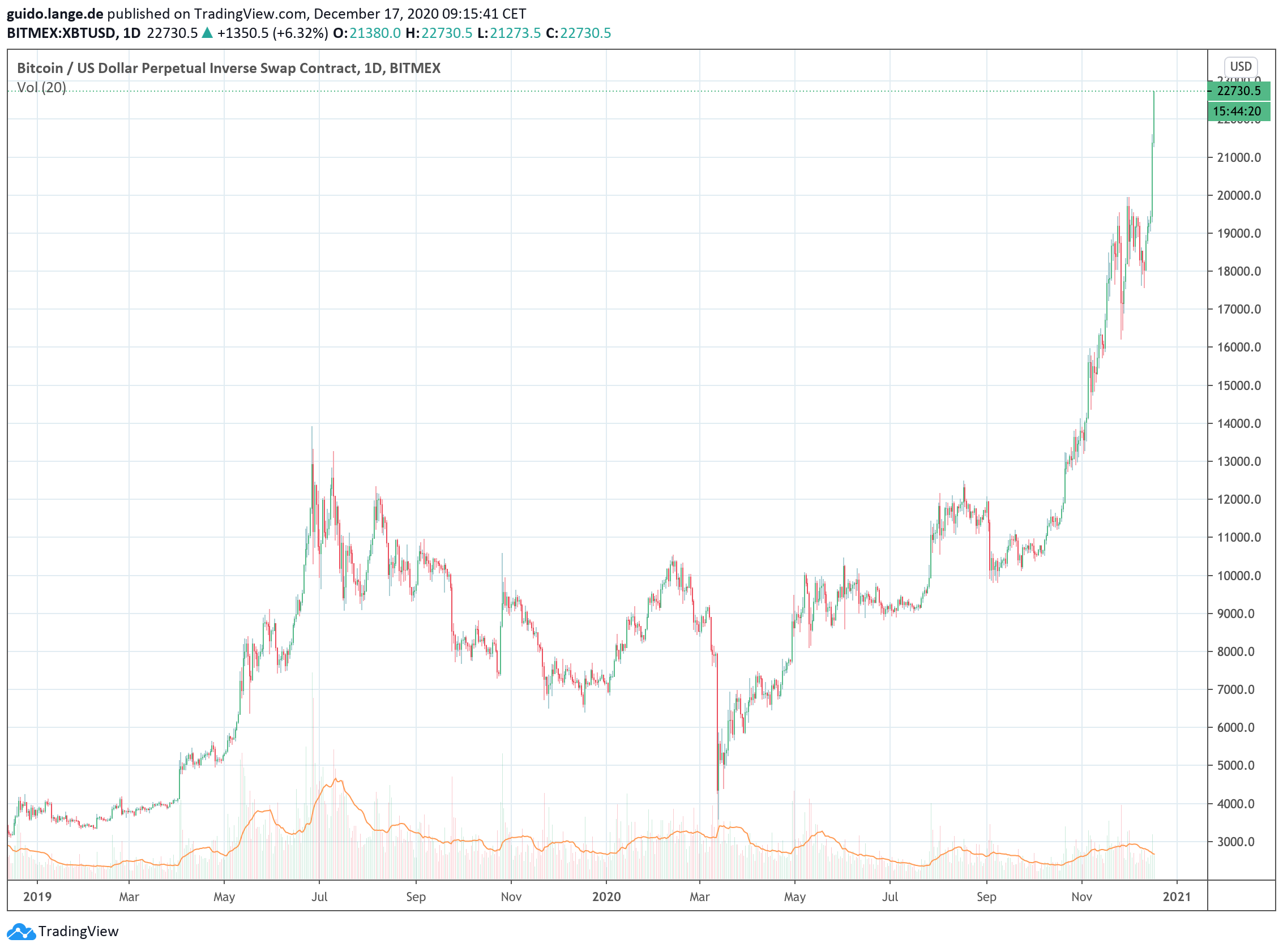 Institutional investors have discovered Bitcoin for themselves
In the explanations for the 2020 Bitcoin bull market, institutional investors usually play the decisive role: in August, the Nasdaq company MicroStrategy began to systematically shift its cash reserves into BTC. In October, U.S. financial services company Square invested heavily in bitcoin. Also in the fall, PayPal began integrating Bitcoin into its customer offerings. Such decisions laid the foundation for sustained price gains, and analysts noted that stably high demand for Bitcoin is outstripping supply.
Corona crisis shows pluses of bitcoin
In the crisis year 2020, dominated by the Corona pandemic, investors and citizens are increasingly doubting whether the expansionary monetary policy of central banks is still within the bounds or will not entail inflation. In their desire to invest assets in an inflation-proof manner, they quickly come across Bitcoin. Also known as "digital gold," the oldest cryptocurrency is increasingly outpacing physical gold in its role as a store of value, with even Deutsche Bank observing the trend. In May, the quadrennial Bitcoin Halving had taken place and activated the mechanism of an inflation brake anchored in the code of BTC. The investments in Bitcoin as a store of value are long-term strategy and should support the price of BTC.
Bitcoin records tumble – experts in a celebratory mood
Along with the new all-time high of just over $22,000, Bitcoin has also surpassed a market capitalization of $400 billion for the first time in its history. This record figure suggests that Bitcoin is becoming an asset class in its own right, which could attract more institutional investors. MicroStrategy chief executive Michael Saylor recently took to Twitter to once again show how Bitcoin has outperformed all other asset classes in terms of returns over the past decade. Changpeng Zhao, head of the world's largest crypto exchange Binance, also commented via Twitter that while buying Bitcoin is risky, ignoring BTC is equally risky.
Interest in Bitcoin as a trending topic still restrained
Compared to the highs in 2017, Google's current data still witnesses far fewer searches for Bitcoin than in December three years ago. From this, observers conclude that further price gains are quite possible. After all, if Bitcoin's positive news now reaches more people, more citizens are likely to decide to buy BTC for the first time again. A decline in demand for Bitcoin is hardly to be expected for the time being and the situation allows for a positive outlook. Suddenly, forecasts for Bitcoin in price regions of around $100,000 no longer sound like daydreaming, but are based on historical developments in gold.
Conclusion: Bitcoin on the up and up
Macroeconomic arguments speak in favor of Bitcoin, as does the crypto industry, which has come of age in the meantime. In a regulated environment, Bitcoin can be bought completely legally from crypto exchanges such as Binance, eToro or Coinbase against euros. The security that reputable providers exude makes it conceivably easy to discover Bitcoin for yourself. Because even if price corrections are not unlikely – the fact remains: There will only be 21 million Bitcoin and just under 18.6 million of them are already in circulation. The digital gold BTC is created in the concept as a rare commodity, which speaks for price increase. So we are eagerly following where the journey into previously unknown price regions will lead Bitcoin.
---
Best place to buy Bitcoin: