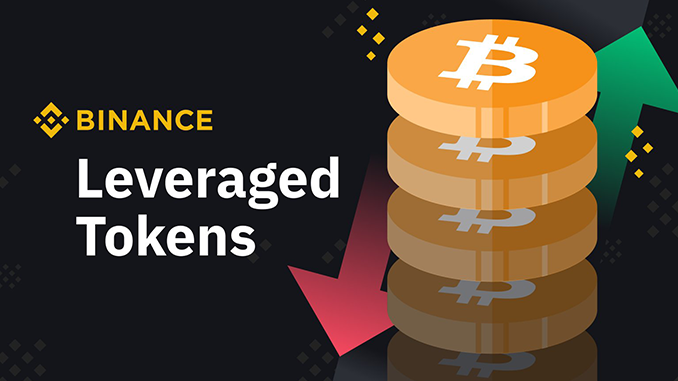 Bitcoin Futures and Options are a familiar financial instrument in the crypto market for traders. Binance now wants to offer such derivatives for investors in a simplified way through leveraged tokens. Low fees and high transparency will be advertised.
Bitcoin (BTC) has just completed the Bitcoin Halving and the world's leading crypto exchange Binance is already trying to make further investments attractive to investors. In a blog post, Binance announces that it will list Binance Leveraged Tokens (BLVT) based on Bitcoin starting tomorrow, Thursday (May 14, 2020). Behind this are financial instruments that automatically apply leverage to investments in BTCs in order to increase profits on correctly predicted price developments. Binance Leveraged Tokens are thus basically similar to Bitcoin Futures and Bitcoin Options, but require less expertise and time from users.
Binance Leveraged Tokens for BTC briefly explained
The Binance Leveraged Tokens are designed to benefit from price developments in Bitcoin with a leverage between 1.5 and 3. In addition, BTCUP is a token launched on the market that serves to bet on price increases at BTC. BTCDOWN is the opposite of the token where you would make a profit if the price of Bitcoin falls.
Binance promises that a sophisticated algorithm constantly adapts the leverage applied to the market situation. This is intended to optimize profits and avoid losses as far as possible. For this service, known as management, Binance calculates 0.01 percent of the individual investment volume in BLVT on a daily basis. In addition, there are the usual fees for buying and selling crypto currencies at Bitcoin, which are based on turnover and can be reduced by payments in Binance Coin (BNB).
To prevent the market as a whole from speculating against BTCUP and BTCDOWN, the leverage actually used will only be published afterwards. The leverage should normally only change significantly in extreme market situations. However, as is well known, the price of Bitcoin often fluctuates by a double-digit percentage within a short period of time, so it will be exciting to see how Binance defines "extreme market situations" in conjunction with its BLVTs.
To buy BTCUP and BTCDOWN from Binance, all you need is a simple account. The tokens are offered via Binance's Spot Advanced trading interface and of course you have to indicate that you understand the risks. BTCUP and BTCDOWN are calculated in US dollars, a payout in Fiat will incur a 0.1 percent fee. Binance recommends trading the BLVT on the spot market, where the Stablecon Tether (USDT) is used, thus saving fees.
Pros and cons of the new Bitcoin financial product from Binance
For you as an investor, BTCUP and BTCDOWN can be an attractive option to benefit quite easily and conveniently from your Bitcoin price forecasts. The fees charged are fair and with a leverage of no more than 3 the risk is kept within limits. You can also stop your investment in BTCUP and BTCDOWN at any time if the prices develop differently than you predicted. Binance CEO Zhao Changpeng ("CZ") personally promotes BLVT on Twitter. So it is clear: A failure of BTCUP and BTCDOWN would have negative consequences for the image of Binance as an editor, here one will probably act rather conservatively than speculate aggressively.
https://twitter.com/cz_binance/status/1260189491219718144
Nevertheless, critics are already voicing their opinions before the first day of trading in Binance Leveraged Tokens. Crypto expert Larry Cermak, for example, noted on Twitter that Binance had last listed leveraged tokens from the FTX platform, citing investor protection as the reason for this. According to Cermak, it is strange that Binance is now launching a largely identical financial product.
So are we not going to talk about Binance quietly listing their own leveraged tokens a month and a half after delisting FTX's leveraged tokens? Are we not going to talk about CZ claiming it was because he wanted to protect users? pic.twitter.com/e5DJssaks8

— Larry Cermak (@lawmaster) May 12, 2020
This commentary contains the simple truth: Inexperienced investors are often blinded by the profit opportunities that leverage increases and suppress the fact that such leveraged investments also increase the risk of losses accordingly.
---