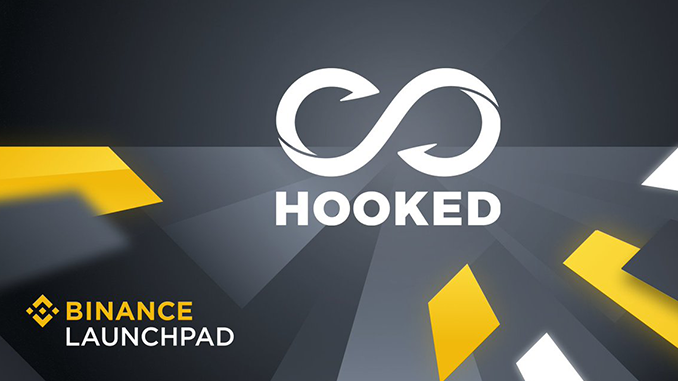 Hooked Protocol (HOOK) is the name of the new Web3 token that Binance Launchpad is distributing via an exclusive IEO ahead of its IPO debut. You can read here how to take advantage of your chances of winning and what is behind HOOK.
Already the 29th IEO (Initial Exchange Offer) Binance Launchpad is organizing and the format has been getting around in the crypto scene due to good chances of winning. This time the crypto project Hooked Protocol (HOOK) is in focus at Binance Launchpad and the preparation phase of the IEO has started today, Thursday, according to the announcement. As usual, the principle is simple: anyone holding Binance Coin (BNB) on the platform now qualifies to get their turn at the first public sale of Hooked Protocol (HOOK) on December 1.
Binance Launchpad will then issue 25 million HOOK at a fixed price of $0.10 each in BNB. How many Hooked Protocol you can then secure will be calculated proportionally based on total BNB contributed in relation to individually held BNB. The binding allocation will take place on December 1st in the morning from 7:00 to 10:00 German time. Accordingly, in that time frame you must confirm on Binance Launchpad that you are exercising your preemption opportunity. When Hooked Protocol is subsequently listed on Binance on December 1, the chances are good that the prices for the stock exchange debut of HOOK will be far above the fixed issue price.
Background on Hooked Protocol (HOOK)
Hooked Protocol describes itself as a platform that offers game-based learning programs for Web3 projects, where tokens can also be earned. Concepts such as "Quiz to Earn" or simple DeFi applications can be implemented there in DApps. According to its own information, Hooked Protocol has already found more than 2 million monthly users, and with HOOK, the governance token is now coming onto the market. HOOK will thus in the future ballots for referendums on the strategic direction of Hooked Protocol and should also grant access to online events and special NFTs or other goodies.
There are 500 million HOOK in total, 5 percent of which will be sold via Binance Launchpad. In previous private sales, 10 percent of all HOOK were sold at prices between 0.06 and 0.12 US dollars. So the issue price set now seems fair. The idea of Hooked Protocol to develop a general contact point for Web3 projects occupies a promising niche. This is because Hooked Protocol users can earn tokens from Web3 projects through playful experiences and should then be willing to try them out.
Conclusion: Secure Hooked Protocol at Binance Launchpad
Binance Launchpad has already helped projects like Polygon (MATIC) make their IPO debut and found many highly satisfied investors. The IEOs at Binance Launchpad are consistently oversubscribed many times over, and this is not likely to change with Hooked Protocol. This is precisely the reason for the direct profit opportunities for HOOK investors on December 1 and a good outlook in the medium term. With our positive experience of Binance Launchpad in mind, we can definitely recommend to deal with the IEO of HOOK and not to let the opportunity pass.
---
Open a Binance Account here and save 10% on fees for a lifetime.