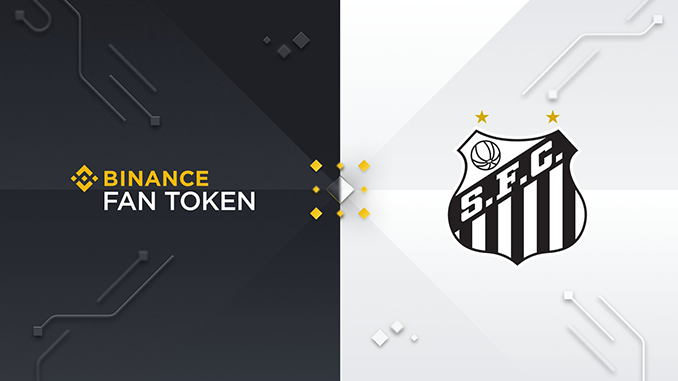 The FC Santos Fan Token (SANTOS) is on the stage of Binance Launchpool. By staking Binance Coin (BNB) or BUSD, SANTOS can be earned for free as bonuses until December 26.
Already the fourth Fan Token for soccer clubs is promoted on Binance within a few weeks. After the Manchester City Fan Token (CITY), FC Porto (PORTO) and Lazio Roma, this time it's all about the Santos FC Fan Token (SANTOS). According to the announcement from Binance Launchpool, SANTOS will be distributed daily until December 26 to everyone who staked on the Binance Coin (BNB) platform or the stablecoin BUSD. Binance Launchpool supports promising altcoins by temporarily distributing new tokens for deposits in predefined cryptocurrencies such as BNB in addition to interest, in this case Santos FC Fan Tokens.
Santos FC, with more than 100 years of tradition, is based in Brazil. The SANTOS fan token is intended to bind supporters more closely to the club, for example through exclusive merchandising or voting between fans on future strategies. The concept of fan tokens in professional sports is a rapidly growing branch of the crypto industry and is also used by Binance for self-promotion.
How to get Santos FC fan tokens through Binance Launchpool.
Binance Launchpool for SANTOS accepts Binance Coin and/or BUSD as deposits. After you register your coins there, they are eligible for Santos FC Fan Token staking. A total of 1.5 million Santos are available for the promotion, 5 percent of the total Santos FC Fan Token holdings. Every day until December 26, parts of it will go to the BNB pool and the one in BUSD. Thereby, early deposits until December 1 are better rewarded and the lion's share is reserved for the Binance Coin Pool.
In addition to SANTOS, this time you earn targeted annual interest in BNB and BUSD, respectively, with Binance Launchpool. Their rates will be announced on December 1, when Santos FC Fan Token is listed on Binance. Trading pairs for SANTOS against Bitcoin (BTC), Tether (USDT), Brazilian Real and Turkish Lira will be announced then.
Conclusion: Secure SANTOS at Binance Launchpool.
In our experience, participating in Binance Launchpool promotions is worth it. Because you don't really take a risk when staking there and especially currently not actively used BNB or BUSD can bring you a passive additional income, this time with Santos FC Fan Token as a bonus on top. It will be exciting to see how the price curve of SANTOS develops after the initial listing on December 1.
---
Open a Binance Account here and save 10% on fees for a lifetime.