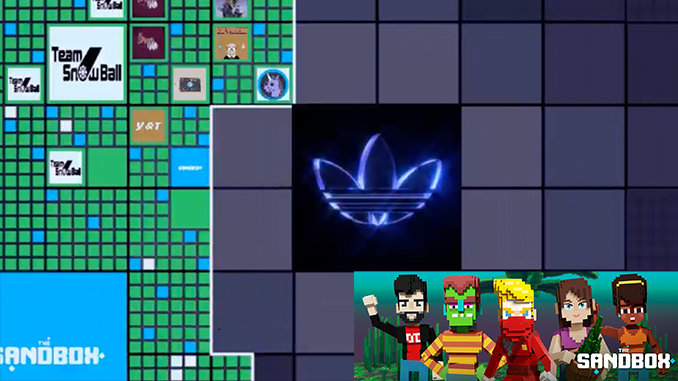 Since announcements about Facebook Metaverse, altcoins that organize virtual worlds technologically via blockchains have been under observation. Sandbox (SAND) has recently seen around 90 percent gains in this genre.
The price curve of The Sandbox (SAND) seems to have been little affected by last week's corrections in the overall crypto market. While the leading currency Bitcoin (BTC) is treading water with ups and downs, SAND has gained almost 90 percent in the last 7 days. From previously just under 4 U-dollar Santos is now around 7.50 U.S. dollars and in parallel now also arrived in the top 50 of the strongest cryptocurrencies. Since Facebook made big plans for a megaverse public, altcoins like SAND and Decentraland (MANA) have been trending and are indispensable in blockchain games as native tokens.
In Sandbox's case, an announcement from Adidas had a supportive effect. Namely, the sporting goods company has secured a virtual property at Sandbox, according to a Twitter announcement, and could run promotions for Adidas from there. The entry of globally known brands like Adidas into Sandbox is an indication of the potential companies see in communicating with customers in virtual worlds. Facebook Metaverse will also enable such promotions, but is not yet live. Sandbox, on the other hand, has been steadily evolving since its IEO at Binance in August 2020, and is starting to unlock minigames in its virtual world these days.
Those who were able to secure SAND for just a few cents before its initial listing should be looking at their wallet today with great satisfaction. But even in 2021 alone, Sandbox's price curve has increased by around 17,000 percent since the beginning of the year, making it one of the hidden champions for a long time. Facebook Metaverse then pushed SAND forward into the spotlight, just like Decentraland (MANA), and apparently convinced gamers as well as investors. However, MANA was no longer able to keep up with the latest price rally of The Sandbox, but remains ahead of SAND for the time being with a market capitalization of a good 9 billion US dollars and now just under 7 billion US dollars.
Conclusion: SAND and The Sandbox are making good progress
With Axie Infinity (AXIE), a third gaming token had already caused a sensation in the summer and climbed one all-time high after the other. The idea of Facebook Metaverse has given the division an additional boost and the development of Sandbox clearly reflects this. For sustained success, SAND, like AXIE and MANA, will have to take care to constantly fill its virtual game world with new attractive content. If this succeeds, further share price gains are possible. After all, Facebook Metaverse does not even have a fixed internal currency yet, while the alternatives from the crypto industry already deliver gaming fun that also requires the use of the native currencies of The Sandbox, Decentraland or Axie Infinity.
---
You can buy SAND on Binance. Open a Binance Account here and save 10% on fees for a lifetime.