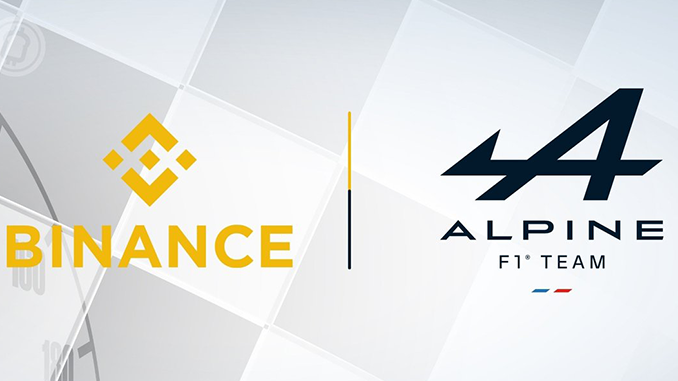 With the Alpine F1 Fan Token (ALPINE), Binance Launchpad is currently running its now 27th IEO. The format has gained a lot of popularity with very good chances of winning. Find out how it works here.
With IEOs (Initial Exchange Offerings), the crypto exchange Binance has established a format since the beginning of 2019 that paves the way for new cryptocurrencies to enter the market. In the process, success stories such as Polygon (MATIC) or Axie Infinity (AXS) have brought early investors profits of more than 1,000 percent. Currently, the Alpine F1 Fan Token (ALPINE) is taking center stage at Binance Launchpad's 27th IEO. This coin is designed to be the official fan token of the Alpine Formula 1 racing team. On February 21 (Monday), it will be sold for the first time via IEO at a fixed price by Binance and then also listed directly for free trading.
To get Alpine F1 Fan Token right at the beginning, you need to participate in Binance's IEO. This requires funds in Binance Coin (BNB), which are stored in your customer account. Since yesterday, Wednesday, Binance has been taking hourly snapshots to calculate how many BNB a participant in the IEO holds individually for ALPINE. This personal average will then yield the maximum amount of BNB you can contribute to the IEO in a three-hour subscription period on the morning of February 21. It must be bindingly registered by you with Binance for the IEO at this time.
Sold, according to Binance's announcement, are 4 million ALPINE at a price of $1 each, settled in BNB. A total of 40 million Alpine F1 Fan Tokens have been generated, of which a good 28 percent will be circulating at the start of free trading. Of these, 10 percent come from the IEO and the other approximately 18.4 percent from allocations to the team, developers and other stakeholders. There has been no private sell of Alpine F1 Fan Token, according to the information.
Alpine F1 Fan Tokens will then be sold through the Binance IEO at noon on Feb. 21. Based on experience, the IEOs are oversubscribed many times over, so you will only be able to actually buy ALPINE automated for a fraction of the qualifying BNB. The remaining BNB will be credited back to your customer account, as will the allocated Alpine F1 Fan Tokens. Usually, the immediately following trading start of a coin pushed through Binance Launchpad is the first easy way to realize profits of several hundred percent.
What is Alpine F1 Fan Token?
Fan Tokens are becoming a staple in professional sports, offering their added value as tickets to exclusive promotions from supported teams or individual athletes. In the case of Alpine F1, for example, meet-and-greet with the drivers, limited merchandise and NFTs are promised at the start. In the future, blockchain gaming and other offerings are also expected to enrich the fan experience for Formula 1 and the Alpine racing team.
Bottom line: mark your calendar now for IEO for Alpine F1 Fan Token.
In November 2021, Binance Launchpad had organized the debut of the comparable fan token FC Porto (PORTO) and also called $1 per PORTO. At the start of trading, PORTO then shot to highs of a good 20 US dollars and is currently trading at 3.60 US dollars. This example shows how amazing profits can be made with good timing in Binance IEOs. Formula 1 with a global following and Alpine with a long history in motorsports form a common drawing card that speaks for the Alpine F1 Fan Token. Therefore, if you already hold BNB, it is recommended that you participate in the IEO for ALPINE early Monday (February 21).
---
Wer noch keinen Binance Account hat kann sich hier einen einrichten und dabei 10% Gebühren sparen, alles wichtige dazu erfahrt ihr hier.