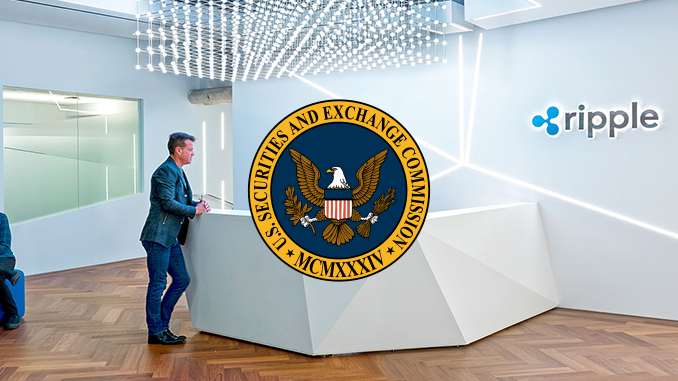 In the crypto trial of the year, the U.S. Securities and Exchange Commission and Ripple are at war over XRP. New details give Ripple hope that the trial will end more gently than initially feared.
For almost 14 months now, the crypto scene has been watching spellbound how the mammoth proceedings of the US Securities and Exchange Commission against Ripple (XRP) are developing in New York. Most recently, Ripple had to concede and had been obliged to disclose allegedly incriminating material. But the counterattack followed promptly and now Ripple is pushing for the SEC to hand over juicy memos as well. These revolve around a potentially momentous meeting between Ripple CEO Bradley Garlinghouse and SEC Commissioner Elad Leon Roisman from 2018, when the SEC may have signaled to put XRP on par with Ethereum (ETH) and Bitcoin (BTC) rather than classify them as securities?
For this question remains the lynchpin of the legal duel, which is being fought with great ferocity and ever new requests for evidence. The SEC as prosecutor sees XRP of Ripple wrongfully sold without authorization in 2013 and 2014 for just over 1.3 billion US dollars. Ripple needed prior approval and knew it, according to the SEC, which is seeking millions in penalties for Ripple and extensive damages for early investors. On the other hand, Ripple has latched onto the argument that XRP is on par with Bitcoin and Ethereum. In the case of these two leading cryptocurrencies, the SEC had decided not to consider them as securities.
This is where current SEC chief Gary Gensler is now getting into trouble. On Twitter, it is gleefully demonstrated how Gensler squirms in the interview on XRP and his personal about-face on Ethereum hardly seems explainable. For as recently as 2018, Gensler as a professor had castigated a sale of ETH by the Ethereum Foundation and called for SEC intervention. Now he holds a different opinion in his authority, but cannot explain conclusively where the big difference between Ripple and XRP to Ethereum Foundation and ETH should be.
Conclusion: Is a preliminary decision in the XRP trial approaching?
What is clear is that there is some key evidence to be brought into the SEC vs. Ripple trial these days. Some U.S. crypto portals are also hoping that this will provide clues that the SEC has blundered with its charges and that Ripple is on the winning track with XRP. Those who have been following the process for a while have usually noted the Twitter accounts of independent crypto lawyers James Filan and Jeremy Hogan. The two experts follow the proceedings from the outside with expertise and explain quite neutrally when tangible developments happen. For the moment, the price curve of XRP is stagnating, but it could swing at any time – as soon as it turns out what is really in the documents around which so much secrecy has been practiced.
---
Best place to buy Bitcoin and Ripple (XRP):