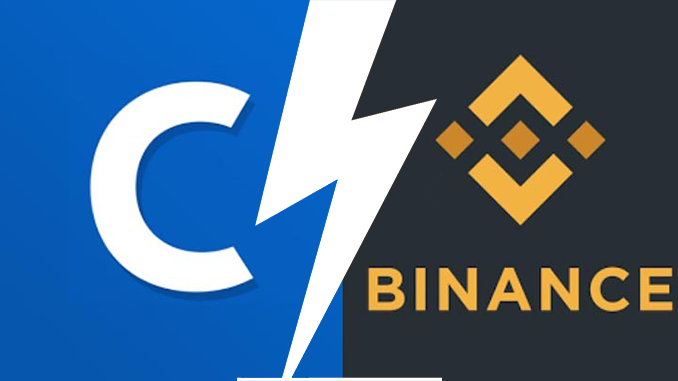 Ever more humans consider to enter into the topic crypto currencies actively. At first they stand thereby before the choice, with which platform they buy Bitcoin and CO. We compare here with Binance and Coinbase two of the largest international Kryptobörsen in the practice test.
You read and hear about Bitcoin (BTC) and Altcoins like Ethereum (ETH) or IOTA? And you are thinking about not missing the chances for profits with crypto currencies? Then the question automatically arises for you, which platform is the best way to get started. With Binance and Coinbase, two of the largest providers, we will put two of them on the test bench for you and concentrate on criteria from the practice of a German investor.
Coinbase was launched in 2012 and initially focused on the US market. But millions of customers later Coinbase is also offensively active in the EU and has a German language website. Binance did not go online until 2017 and then quickly rolled up the field of crypto exchanges with innovations. In the meantime, Binance has employees in Germany and offers many of its services in German. Both platforms therefore have sufficient trading volume to determine fair market prices for crypto currencies. Both Binance and Coinbase operate legally in Germany and have proven to be reputable in the past. So our comparison starts with a draw and it is 1:1 between Binance and Coinbase.
How can I deposit money at Coinbase and Binance?
In order to buy Bitcoin or other crypto currencies for Euro, you first have to create a verified customer account with Binance or Coinbase and then deposit money into it. Registration and identity confirmation works online and is completed quickly. You can then transfer money by bank transfer or credit card. From the customer's point of view Coinbase and Binance are equal in this respect, the result is a draw, 2:2
Use credit cards at Binance and Coinbase
In the EU, Coinbase so far only allows credit cards with the so-called 3D Secure System to be used. This additional security measure is not supported by all banks. There are no restrictions with Binance, so Binance has a slight advantage of 3.0 to 2.5 over Coinbase.
What are the maximum amounts for credit card payments?
Binance sets a weekly maximum amount of 70.000 Euro for credit card payments in Euro and Coinbase cannot compete with 3.000 Euro. The clear point for Binance, in the duel with Coinbase it is now 4:2,5.
What are the fees for credit cards at Coinbase and Binance?
Coinbase charges 3.99 percent fees when buying crypto currencies by credit card and additionally 0.5 percent for the spread, which covers price fluctuations. Binance charges 2.0 percent fees for purchasing Bitcoin and Co. with credit card as payment method and adds 1.0 percent for the spread. So you are driving at a lower price with Binance and stay in the lead with 4.5 to 3.0 to Coinbase.
How do withdrawals work with Binance and Coinbase?
Both crypto exchanges allow you to withdraw Euros from your customer account. This is possible by bank transfer to your bank account. Coinbase also supports PayPal and Binance supports the payment service provider Advcash, which is not very common in this country. So there are slight advantages for Coinbase, which is 3.5 to 4.5 times as good as Binance.
What are the maximum limits for withdrawals?
At Binance you can initiate daily withdrawals of up to 200.000 Euro by bank transfer. Coinbase covers daily withdrawals via bank transfer at 25.000 Euro and via Paypal at 20.000 Euro. Here Binance is more customer friendly and takes the lead with 5.0 at 3.5 for Coinbase.
What can be done with crypto currencies at Coinbase and Binance?
We have examined the spot market here, i.e. the possibilities to buy a crypto currency and then sell it again at a profit if the price increases. But as soon as you are interested in further trading possibilities, you will notice: Binance covers the whole range of instruments of experienced traders with options such as margin trading, futures, lending and staking. Coinbase does not have this in its basic version and Coinbase Pro as a more advanced platform cannot come close to the variety of Binance. By the way, Coinbase does not list IOTA, a very popular crypto currency, especially in Germany – at Binance IOTA is part of the portfolio.
Conclusion: Binance wins comparison with Coinbase
We would like to emphasize that Binance is clearly ahead in the criteria we have chosen for a convenient, secure and inexpensive entry into crypto trading. Particularly with the topics fees and maximum amounts Coinbase leaves feathers from customer view. If you also want to use financial instruments outside the spot market with growing experience, Binance offers exemplary service. So in autumn 2020: Binance is the platform for Bitcoin and Co., which we recommend you to start from Germany.
---
Open a Binance Account here and save 10% on fees for a lifetime.