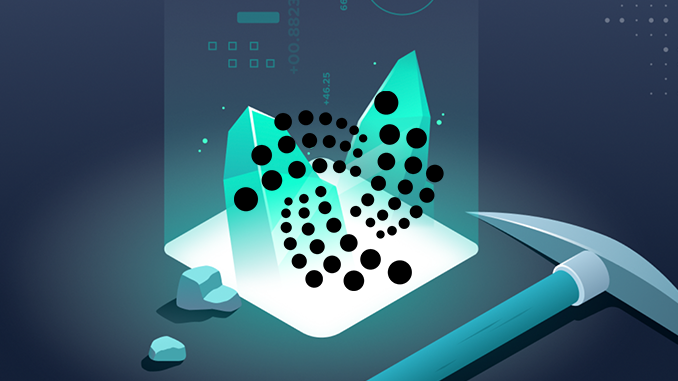 IOTA has been selected to play a central role in the EU project Dig_IT. Dig_IT aims to digitally record processes in mining (coal, copper and gold) and, for example, to ensure better working conditions and environmental balance. Besides IOTA, 15 partners from 9 EU countries are on board.
The IOTA Foundation can report further recognition from the EU: Following the successful launch of an EU program on Smart Cities (CityxChange) with IOTA, a project called Dig_IT now aims to make mining fit for the future. IOTA will set up a central data office at Dig_IT and provide the network for data collection, according to a blog post. Dig_IT will initially run until 2024 and will receive 7 million euros from EU funds. The other 15 project participants in Dig_IT include universities, industry and companies familiar with mining.
Background on IOTA and Dig_IT
Mining does not have a particularly good image for reasons such as questionable working conditions and environmental pollution. Dig_IT addresses these issues, but also aims to improve efficiency in the mines. The starting point for this is data acquisition of work steps, environmental conditions and machines, partly by hand and partly by sensors. Using IOTA's Tanglenet as a tamper-proof network, this data flows together at a central node. Here, pre-programmed routines are used to make suggestions for increasing efficiency. Dig_IT's goal is to prove its advantages in practice at five exemplary mines. A reduction in CO2 emissions by 19 percent is considered possible, transport chains are to be better utilized by 20 percent and the general efficiency of the mines is to be increased by 17 percent. Dig_IT is calculating double-digit million profits when its concept is commercially exploited.
IOTA emphasizes a special feature of Dig_IT in terms of technological solutions: Part of the data will be released to the public so that they can see for themselves what modern mining is like. This should include, for example, water consumption, waste volume and reduction of CO2 emissions. Other data, which are used for business calculations, for example, will be kept under lock and key. The first test runs are scheduled to start in 2020, and gold, coal and copper will be mined in the underground mines involved. IOTA is already training employees of the other project participants and is using 155,000 euros from the funding.
Conclusion: IOTA goes mining – in the real economy
Anyone who thinks of mining in the crypto scene initially associates it with computer farms for Bitcoin (BTC) mining. But IOTA has found a project with potential in classic underground mining. Mining has been little digitized so far and Dig_IT wants to change that for the benefit of all. The IOTA Foundation sees its participation in Dig_IT as proof that the proactive efforts to participate in publicly funded future programs are worthwhile. In fact, such projects have the chance to become showcases for the use of IOTA as practical studies.
---
Best place to buy Bitcoin and IOTA: