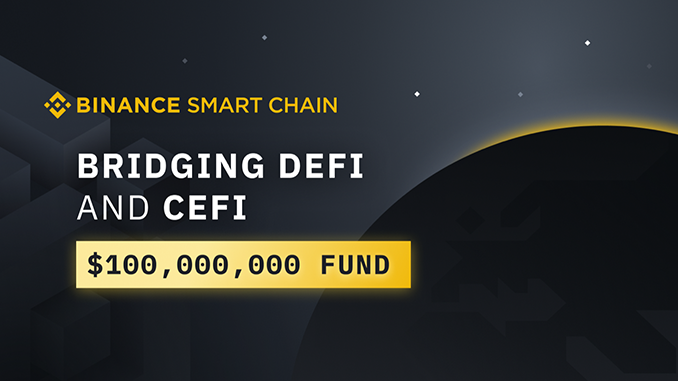 In the future, the Binance Smart Chain is to serve as a link for DeFi projects to connect them to the centralized trading platform. Binance is providing 100 million US dollars to support promising DeFi projects in building this bridge.
Binance, the leading global crypto exchange, is serious about DeFi (Decentralized Finance) and wants to position itself as a bridge between DeFi and centralized solutions. Binance CEO Changpeng Zhao outlined this strategy at the conference "The World of DeFi" and said that his company is opening a fund for this purpose. This fund will be filled with 100 million US dollars to help DeFi projects get started when they integrate the Binance Smart Chain (BSC). In a blog post, Binance outlines how DeFi and CeFi (Centralized Finance) interact and where the benefits lie.
Background on Binance Smart Chain and DeFi
Binance's own block chain BSC was launched in April 2019 and was already designed to organize not only the Binance Coin (BNB). Rather, the BSC was also intended to be the basis for a decentralized crypto exchange (DEX) of Binance. As early as April 2020, Binance announced its intention to expand the BSC to include functions such as Smart Contracts. Now Binance wants to extend its BSC functionally to make different block chain ecosystems compatible with each other. This will make it possible to combine Bitcoin and Altcoins from Ethereum (ETH) to Ripple (XRP) and EOS in DeFi projects.
Binance believes that the initiative brings together the advantages of DeFi and CeFi. Customers would, for example, appreciate the centralized trading platform in addition to the spot market options such as futures, margin trading and staking. Meanwhile, DeFi offers yield farming, loan transactions and automated pool creation. Through BSC, Binance now wants to merge these two approaches and thus offer users simple solutions ("One Click").
It is recalled that Binance has been promoting DeFi ideas early in 2019 and has partly realized them through BSC, long before DeFi reached the mainstream as it does now. They do not see the danger of competing with their original business model as a centralized crypto exchange. Rather, Binance is oriented towards customer requirements and the goal of strengthening the best solutions in the crypto industry.
Conclusion: Binance occupies future market DeFi
Although the USD 100 million start-up financing for DeFi projects is not postage money for Binance, it is manageable with annual net profits of around USD 500 million. If Binance succeeds in attracting the cleverest DeFi ideas and attracting them to the BSC, it will take a decisive step towards future viability. It is already looking forward to not only providing financial support for exciting projects, but also to presenting them to its huge customer base and possibly listing them. Binance will then benefit from such programs through fees and a strengthening of the BSC also promotes Binance Coin quasi automatically.
CEO "CZ" calls the new approach "CeDeFi" on Twitter and thus provides a catchy slogan. For you as an investor, there should be an opportunity for you to immerse yourself in the topic of DeFi via the serious platform Binance and, of course, to benefit from it. Binance thus once again proves to be a pacemaker in the crypto industry.
---
Open a Binance Account here and save 10% on fees for a lifetime.