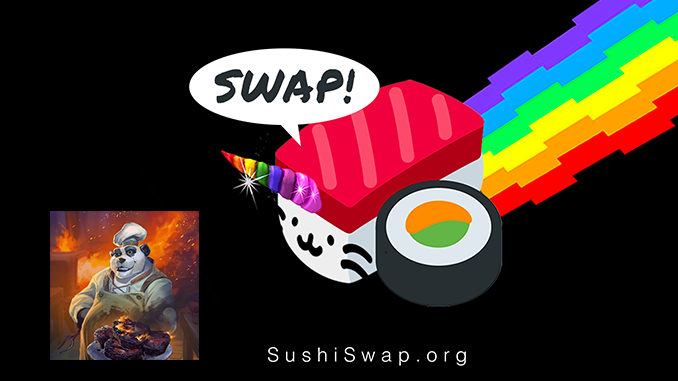 At SUSHI and SushiSwap the anonymous founder caused a stir about a week ago when he relinquished control and withdrew his shares from the project. Now "Chef Nomi" has transferred back the 38,000 Ethereum (ETH) in question (converted about 14 million US dollars) to SushiSwap.
The DeFi-Story about SUSHI and SushiSwap has got a new spectacular chapter: The anonymous founder "Chef Nomi" had surprisingly triggered his shares in the project on September 5 and retired from the leadership role. As a result, the course of SUSHI collapsed and the accusation of exit-scam made the rounds. Now "Chef Nomi" has apologized on Twitter and reassigned the controversial 38,000 Ethereum (ETH) worth about 14 million US dollars to SushiSwap. He had made "bad, controversial decisions under pressure", explained his rethinking to "Chef Nomi".
Does SushiSwap use the money rain for support purchases for SUSHI?
The apology of "Chef Nomi" only convinced parts of the crypto-scene, many investors described the financial losses they had to accept due to the drop in the SUSHI share price. At the same time, however, with SushiSwap as a decentralized project, the question of what to do with repayment automatically arose. From the community came the proposal to use the 14 million US dollars in ETH to buy back SUSHI. This would probably support the price of SUSHI and at the same time replenish the funds for further development and premiums. This proposal was accepted. However, it will probably only come into force if a second vote sets the minimum participation in such votes at a reasonable level. According to SushiSwap (https://twitter.com/SushiSwap) the current trend is clear and the buyback of SUSHI is being prepared for tomorrow, Tuesday.
Conclusion: The SushiSwap case shows pitfalls with DeFi
The confusion around "Chef Nomi", SushiSwap and SUSHI has damaged the project and damaged trust. Now, the unexpected repayment of "Chef Nomi" is clearing the way to give the project more radiance again. After all, the transfer of liquidity to SushiSwap went smoothly and the community shows decision-making ability. With "0xMaki" a person was found who will now organize SushiSwap full-time. And with the probable buyback of SUSHI the price could recover again.
---
You can buy and trade Sushi with leverage at Binance. Open a Binance Account here and save 10% on fees for a lifetime.