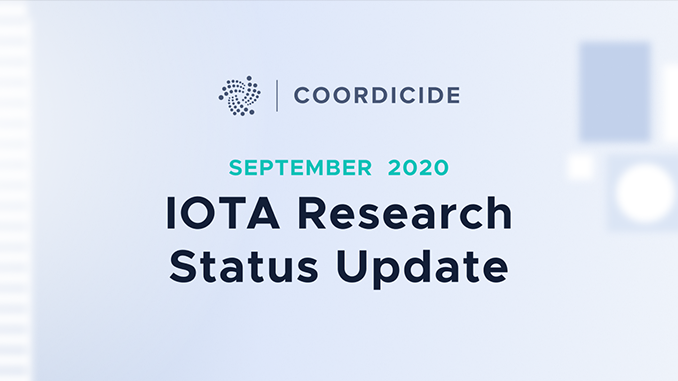 IOTA believes that it is on the right track with its goal of setting up a decentralized network in the future. The latest progress report states that the theoretical considerations for IOTA 2.0 are almost complete and work is already underway to set up a new test network called Nectar.
As you know, IOTA has set out to eliminate the unloved central coordinator with the Coordicide project. IOTA 2.0 will then be based on a real, decentralized block chain. However, the technological development work on Coordicide has been dragging on for years, and only in recent months have the first successes been reported. Now the IOTA Foundation has published a current development report and it reads optimistically.
IOTA 2.0 is getting closer
Serguei Popov, one of the co-founders of IOTA and a mathematician, describes in the latest report on Coordicide that theoretical questions are almost completely discussed. Now it is a matter of combining and documenting specifications. On this basis, Nectar could then be developed as another testnet for IOTA 2.0. To better organize the tasks, it was agreed to form five working groups. Two of them will concentrate on Nectar, two will focus on the specifications and the protocol and one will continue to research which consensus model is best suited for IOTA 2.0.
Currently a testnet is already live for Coordicide with pollen. Popov reports that some problems with pollen have already been solved. With Nectar as the next phase, further features of IOTA 2.0 will be tested and rewards will be given for troubleshooting. So far, Nectar was planned to be launched at the end of October, but Popov does not give a concrete time schedule. Meanwhile, the crypto scene is waiting for the launch of the second phase of Chrysalis aka IOTA 1.5, which will set the course for the main target Coordicide.
Conclusion: Optimism at IOTA
The IOTA Foundation is known for not holding back with announcements. But it has often been shown that schedules could not be kept. Popov's water level report is not without its drawbacks – it can also be interpreted as asking for patience for Coordicide. If IOTA 2.0 requires continued work on specifications and even the consensus issue, these are probably not trivial challenges. But at least IOTA has understood that it is necessary to achieve practical results. What has already been integrated into Mainnet with Chrysalis Phase One has passed the first stress tests.
---
Best place to buy Bitcoin and IOTA: