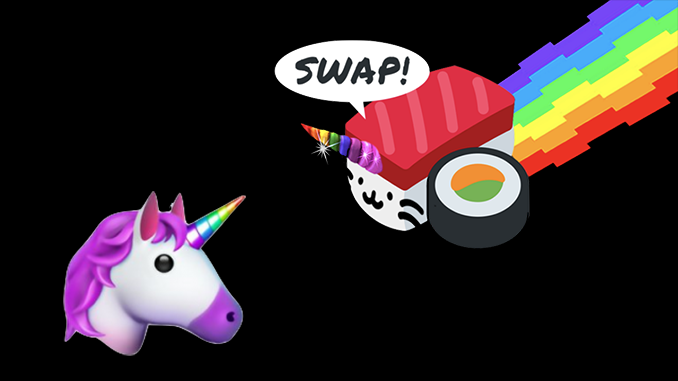 When two weeks ago the project SushiSwap was presented and the Altcoin SUSHI was launched as an incentive, it was clear to experts that this could lead to competition for the decentralized crypto exchange Uniswap. Now SushiSwap has been launched and has withdrawn a good $1 billion in liquidity from Uniswap.
Big day for SUSHI and SushiSwap: Just two weeks after the start of the project, the decisive step has been taken to technically manage the announced migration of capital from Uniswap and thus to put SushiSwap on its own feet. This was announced on Twitter by Sam Bankman-Fried on Thursday night. Bankman-Fried had only taken control of SushiSwap on the weekend when the anonymous founder of the project withdrew and handed over the responsibility to Bankman-Fried. So now Bankman-Fried, who is actually CEO of the crypto exchange FTX, had to fulfill the technically demanding promise of SushiSwap to move the DeFi liquidity formed at Uniswap to its own platform.
SushiSwap with more than $1 billion in liquidity – Uniswap shrinks accordingly
The stroke of genius at the start of SUSHI was: This freely tradable token should reflect the advantages of Uniswap. SushiSwap will be the better uniswap because investors will not only receive interest and fee income for providing liquidity, but will also be rewarded with SUSHI. The concept induced investors to reserve their previously used Uniswap balances for SushiSwap and receive ten times more SUSHI in the initial phase. With the migration now completed, liquidity at Uniswap shrank by 70 percent overnight, as the data from Uniswap shows. At the same time SushiSwap started with a good 1 billion US dollars in liquidity in crypto-currencies, as these data show. Not surprisingly, SUSHI also benefited and increased in price by a good 20 percent.
SushiSwap, Uniswap and Binance with Bella – competition at DeFi is growing
The basic principle of the young DeFi projects is similar: Whoever provides liquidity has the prospect of double-digit returns. Uniswap had quickly made a name for itself with fair conditions, simple operation and transparent billing. SushiSwap has now used this to its advantage and successfully started a revolution with the idea of SUSHI as an extra reward. Meanwhile Binance has been cooperating with Bella Protocol and BEL, a similar project, since yesterday. Its plus point is supposed to be the user interface reduced to "One Click" – and look: Binance CEO Changpeng Zhao reports on Twitter that this pool has already attracted the equivalent of 600 million US dollars in capital. So the competition for crypto-liquidity is in full swing.
Conclusion: DeFi is booming, SushiSwap displaces Uniswap
Uniswap has been overtaken by SushiSwap and SUSHI as a DeFi-Token has played the decisive role. These projects are aligned to Ethereum (ETH) and ERC-20-Token, then in the tow also ETH could increase in the price in the past 24 hours in the tow by well 10 per cent. With Binance and Bella Protocol (BEL), DeFi liquidity is mainly sought in Binance Coin (BNB) and the Binance USD (BUSD) – this also works on a large scale. BEL will be listed starting next Wednesday and many are hoping for another success story.
The wisdom of "competition stimulates business" is currently proving true in the DeFi division and who will prevail in the medium and long term remains open. SushiSwap has shown just how flexible digital capital can be when better returns are on offer. But it is by no means a foregone conclusion that an even better concept is not being worked out somewhere and that governors are not beating their own weapons.
---
Open a Binance Account here and save 10% on fees for a lifetime.