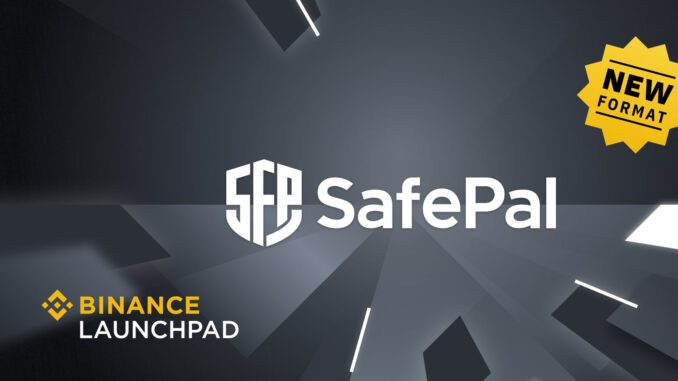 Binance is offering SafePal (SFP), a new token, as part of its IEOs for the first time in the new year. SafePal is backed by an ecosystem for the safekeeping of cryptocurrencies.
When Binance first organized the sale of a new cryptocurrency in early 2019 with the BitTorrent Token (BTT), skepticism was high: investors remembered the ICO bubble and feared that now Binance would push half-baked projects with its market power. But the critics were not right – on the contrary: Binance Launchpad as a platform developed extremely successfully, the new issues were always oversubscribed several times over and brought quick profits to those who even got hold of one of the new cryptocurrencies via Binance. Now the 18th IEO of Binance is coming up and the preparations for the initial sale of SafePal (SFP) have already started.
Background on SafePal (SFP)
SafePal focuses on the topic of security when storing and using cryptocurrencies. In addition to a software wallet and app, SafePal already sells its own hardware wallet. Binance Labs has a stake in SafePal.
With the native token SafePal (SFP), the company aims to organize airdrops, discounts and voting on future directions, among other things. SFP is based on the Binance Chain and can thus also be linked to some DeFi projects in the future, for example.
So, in summary, SFP's offer is to get a package by using SafePal products in conjunction with SFP, where exclusive access to special promotions is open in addition to the security of crypto assets.
Initially, 500 million SFP were generated, of which 75 million have already been sold through seed sale, private sale and strategic sale at prices ranging from $0.016 to $0.08. With the IEO at Binance, SafePal is targeting revenues of US$5 million by offering 50 million SFP at US$0.10 each.
IEO of SafePal at Binance – this is how participation works
As usual, owning Binance Tokens (BNB) is a prerequisite for participating in the IEO on Launchpad. As early as Feb. 2, 2021, Binance began using hourly snapshots to determine how many BNB potential participants in the IEO hold in their customer accounts, according to a blog post. This preparatory phase for SafePal's sale will run until Feb. 8, when an average of individually qualified BNB will be determined.
Now, however, Binance is changing its model of how SafePal are sold. Previously, Binance mostly used a lottery model where winning tickets entitled users to buy new cryptocurrencies. With higher BNB balances, one was allotted more lottery tickets and thus higher chances of winning tickets. Now, for the first time, Binance is trying out a model called subscription. In a separate blogpost Binance explains the innovation. At SafePal, on February 8, 2021 at 05:00 German time, Binance will open a window for four hours until 09:00, where customers can transfer BNB for SFP to a special account. The maximum amount in this Subscription Period is the number of BNB, which emerged as an individual average value from the preparation period.
These BNB transferred during the Subscription Period will be counted as a committed purchase offer (commitment) for SafePal. This means: Binance counts up all BNB provided for SafePal and then calculates how many of the 50 million SFP at 0.10 US dollars each in BNB each individual participant in the IEO is entitled to. The maximum amount is $20,000 in BNB that individuals may thus invest in SafePal. Already in the course of February 8, the SFP will then be issued by Binance and will probably also be freely tradable immediately.
Conclusion: Is the SafePal IEO at Binance worth it?
Of course, Binance is taking a certain risk by changing the conditions of participation for its IEO, because the lottery format had proven itself over two years. But if you take a closer look, you will also notice: the subscription method is actually fairer, because instead of luck of the draw, the capital invested in BNB now decides the allocation of SFP.
SafePal occupies a core topic of the crypto industry with the topic of crypto wallets. With its own hardware wallet, SafePal is making inroads into an industry in which market leader Ledger recently attracted unpleasant attention due to a data leak. The idea of establishing SFP as a discount token and entry ticket for airdrops and similar actions sounds attractive. So our prediction is: This IEO of Binance will also be a success and it might be worthwhile to check your BNB holdings once again now and then get up early on February 8 in order not to miss the decisive and binding subscription to SFP as well as the start of trading.
---
Open a Binance Account here and save 10% on fees for a lifetime.