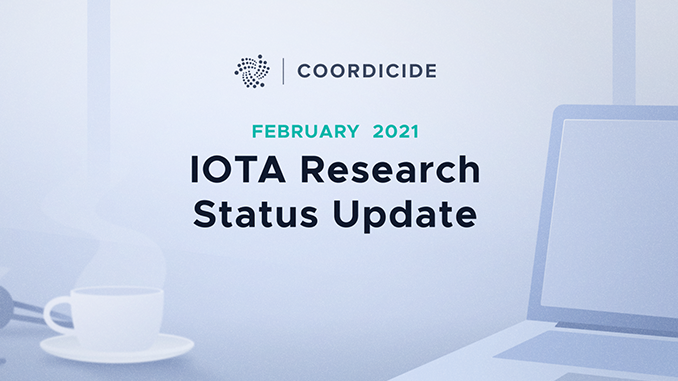 The IOTA Foundation believes it is well on its way with Coordicide, the planned move away from a central coordinator. A second testnet called Nectar for IOTA 2.0 could likely be unlocked soon, it said.
The Herculean task for IOTA in 2021 is the long-announced and eagerly awaited realization of Coordicide. Under this project name, plans for an IOTA 2.0 are bundled, which is supposed to abolish the current central coordinator and thus turn Tanglenet into a decentralized network. Now IOTA co-founder Serguei Popov addresses the public in a blog post and describes the latest progress in the matter of Coordicide. According to this, the release of Testnet Nectar for IOTA 2.0 is in sight.
Testnet Nectar for IOTA2.0 aka Coordicide
Nectar is expected to play a crucial role in the completion of Coordicide, as this testnet is already intended to encourage the search for bugs and monetary rewards are promised to participants in return. Currently, the first testnet named Pollen is running for IOTA 2.0, and after Nectar, Honey is to serve as the third and final testnet for Coordicide later in 2021.
For Pollen, which launched in summer 2020, Popov draws a successful interim conclusion. He emphasizes that Pollen has optimized mechanisms to protect the network from spam. Now, in the upcoming version of Pollen for IOTA 2.0, work is underway to introduce Mana, an extra token that will handle the election and organization of validating network nodes in IOTA 2.0. In addition, Pollen is still to merge message sending and MIOTA.
Nectar, in turn, will initially be released in a beta version and then is expected to allow "rigorous" testing of IOTA 2.0 for a few months, Popov said. However, Popov avoids any commitment to more specific timelines; the IOTA roadmap still lists a Q1 2021 completion date for Nectar, which now seems unrealistic.
Popov is also silent on the second major construction site at IOTA. This goes by the name of Chrysalis and, as IOTA 1.5, is supposed to handle basic technological preparations for the ultimate goal of Coordicide. While phase 1 of Chrysalis was successfully uploaded to the mainnet in August 2020, phase 2 continues to be a long time coming. The date for the completion of Chrysalis, which has been postponed several times, is still February 2021 according to public communication.
Conclusion Stony road to decentralized IOTA 2.0.
The IOTA community has become accustomed to development work moving more slowly than hoped. As such, Popov's recent water status announcement for the IOTA Foundation is within reason and professional anticipation for Nectar is growing. Critical, however, remains when the clearly defined intermediate steps towards IOTA 2.0 will actually go live. For all the sympathy for IOTA with its foundation headquarters in Berlin, the competition does not sleep and many an expert states that IOTA can also end up in a situation in which unfulfilled (temporal) promises lead to a loss of significance.
---
Best place to buy Bitcoin and IOTA: