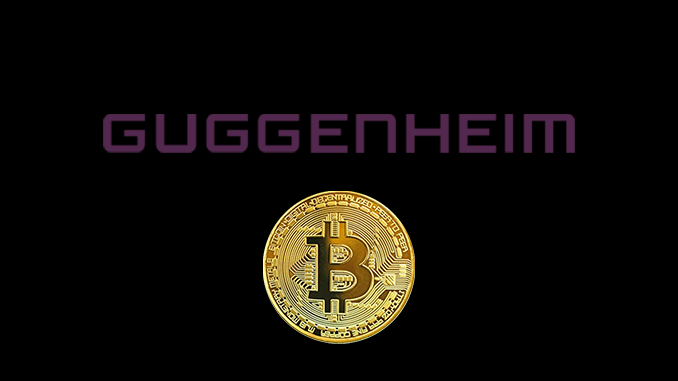 In the popular series of predicting highs for Bitcoin, investment house Guggenheim is now suggesting a new record level of $600,000 per BTC. This mark, it says, is derived from comparing bitcoin to gold.
In the U.S. and beyond, gold-rush sentiment is growing again in terms of Bitcoin (BTC). This time, Guggenheim Partners does not want to be left out and speaks of a possible price of 600,000 US dollars per Bitcoin. This statement was made by Scott Minerd, who heads the investment division at Guggenheim as CIO. Minerd argued to CNN that Guggenheim has been watching Bitcoin's development for ten years and now sees a possible breakthrough. That's because since Bitcoin cracked the $10,000 price mark, he said, a market capitalization has prevailed that is also attractive to institutional investors.
"Cryptocurrency has come into the realm of respectability & will continue to become more and more important in the global economy." @ScottMinerd talks $GME / $SLV / $BTC and the logic of bubbles versus buying frenzy. pic.twitter.com/ZWoZqZNU2M

— Julia Chatterley (@jchatterleyCNN) February 2, 2021
Minderd draws the often-used comparison of Bitcoin with gold as a store of value. According to Guggenheim's forecast, if the limited stock of Bitcoin is put in relation to that of gold, a value per BTC in the corridor of 400,000 to 600,000 US dollars appears to be realistic. Minerd did not give a target date for this, however, and he also assumes that institutional investors will be much more broadly involved in Bitcoin than they have been so far.
Optimism for BTC price based on institutional investors
Looking at the current market situation, Minerd said for Guggenheim that Bitcoin's recent gains from $20,000 to $40,000 "smack of short-term speculation." Still, he says, there is not enough support for bitcoin from institutional investors to hedge current prices. Looking back at Bitcoin's price rally, MicroStrategy, Square and PayPal's entries are seen as crucial.
Currently, MicroStrategy CEO Michel Saylor has invited chief executives from other major companies to attend a virtual conference on how to legally incorporate Bitcoin into their financial management. In addition to providing some sort of instruction manual for doing so, the idea is to establish contacts with major crypto exchanges and other crypto industry service providers. Optimists hope that this event will bring a new wave of institutional investors in Bitcoin.
Conclusion: is the next all-time high for Bitcoin coming?
Looking at the news and sentiment in the U.S., forecasts are mounting that expect another bull ride for Bitcoin in the coming weeks or months. After the all-time high of almost $42,000 per BTC in early January, the market had initially calmed down and defended the psychologically important $30,000 mark. Whether the current upswing, which is picking up speed relatively slowly, provokes new all-time highs for Bitcoin will indeed probably be closely related to how much more institutional investors can get excited about Bitcoin.
---
Best place to buy Bitcoin: