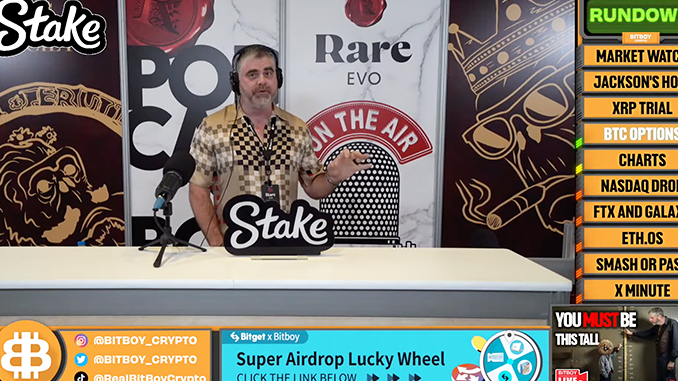 BitBoy, real name Ben Armstrong, has an audience of millions as a YouTuber on crypto topics. But on Monday, he was fired from the HitNetwork. Now BitBoy is questioning the reasons for his termination.
At the beginning of the week, BitBoy made headlines in the crypto scene, as he was surprisingly stripped of his YouTube channel with around 1.5 million subscribers. BJ Investment Holdings as the company behind HitNetwork announced via X (formerly Twitter), they had parted ways with Ben Armstrong. Armstrong is BitBoy and had ceded rights to his videos to HitNetwork. According to BJ Investment Holdings' account, BitBoy had become unacceptable because of drug abuse and his treatment of employees.
But BitBoy aka Ben Armstrong does not want to let that go. He confirmed to media that he is currently speaking out via the X account $Ben. There he presented a current negative drug test. In addition, he writes that his company was stolen from him. In an audio conference, BitBoy went on to say that he had yelled at HitNetwork boss Shedd once in the company, but otherwise always behaved correctly in the team.
If you watch older videos of BitBoy, Armstrong often comes across as so over-the-top that drug influence is suggested. But his fans probably love this appearance so much about him. They also ignore the fact that Armstrong is on trial for allegedly carrying out hidden advertising for the insolvent crypto exchange FTX. We generally wouldn't take BitBoy's advice to investors seriously; it seems riddled with self-interest.
Whether there will now be a court battle between BitBoy and HitNetwork is so far unclear. BitBoy claims that all sponsors of the YouTube channel have already dropped out because it no longer appears there. This HitNetwork rejects and does not rule out a lawsuit. Armstrong, in turn, says somewhat cryptically that the matter will get "extremely dirty before it gets better."
Conclusion: BitBoy severely offended by sacking
For us, BitBoy has always belonged to the sort of crypto gurus that are better ignored because their appearance is far too often paid advertising and does not provide a neutral view of Bitcoin and Co. In this respect, the dismissal of BitBoy by HitNetwork was a long overdue step. Whether the justification for the firing could hold up in court is another question. If the case does go to trial, it is likely to have popcorn potential. Because BitBoy is never quiet, as his current outcry shows.
---