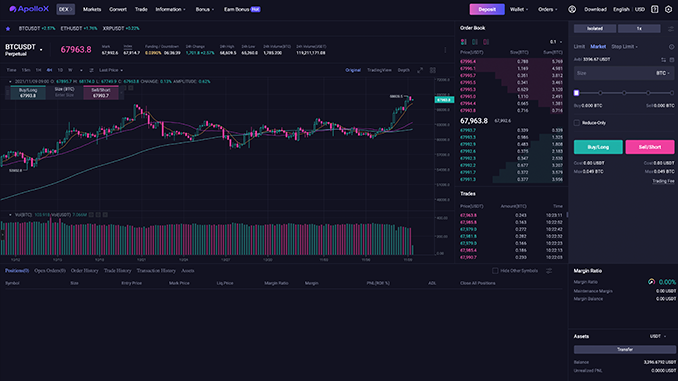 For crypto traders residing in Germany, there are hardly any options left to be active without identity verification (KYC). ApolloX offers a way out here, as this platform allows anonymous customer accounts.
Since the summer, investors living in Germany who previously relied on the world's leading crypto exchange Binance have been looking down the tubes in certain sectors. Binance has stopped trading crypto futures in this country and alternatives are few and far between. Even with identity verification (Know Your Customer), such risk-taking strategies for Bitcoin and Co. are difficult to implement. However, ApolloX is a new market participant and does not (yet) require KYC. So you can trade crypto futures there without your name and address being stored anywhere. Moreover, since you are allowed to withdraw up to 5 Bitcoin (BTC) per day, ApolloX is an attractive option for crypto futures.
In addition to Bitcoin, ApolloX currently lists eight major altcoins, from Ethereum (ETH) and Solana (SOL) to Shiba Inu (SHIB) and Dogecoin (DOGE). Even Ripple (XRP) can be found program. ApolloX offers "perpetual futures", i.e. those without a fixed expiration date. A leverage of up to 100 is permitted.
Currently, ApolloX also pays out bonuses to new customers who bring in cryptocurrency. Besides that, maker and taker fees are set extremely low compared to the competition. ApolloX wants to quickly gain a foothold in the market and has already achieved daily sales of around 200 million US dollars, which ensures fair pricing. If you now add the fact that the limit of 5 BTC for deposits and withdrawals applies daily, i.e. the maximum may be used every day, ApolloX's offer would be interesting even with KYC. But as I said, anyone who registers with ApolloX now can still do so completely anonymously. We have also produced an impression of ApolloX by video for you:
Conclusion: ApolloX – Tip for discreet crypto traders
In the crypto futures sector, ApolloX is an interesting new platform, especially for German customers, as it allows anonymity in a streamlined manner. The portfolio of altcoins listed on ApolloX is expected to grow further, but already combines important tokens from different sectors. Just take a look at ApolloX yourself and let yourself be positively surprised.