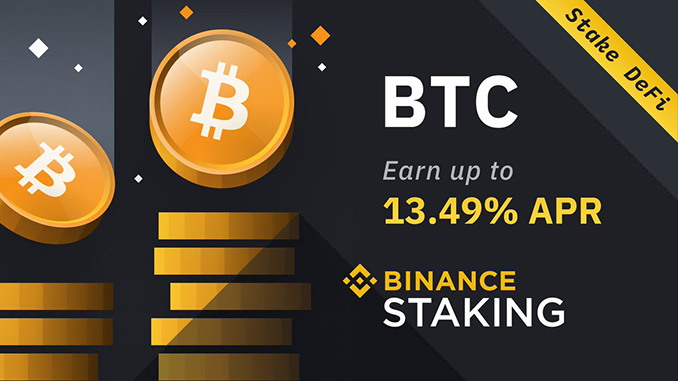 In its DeFi division, Binance is launching a new product in which customers can deposit Bitcoin (BTC) and can expect an annual interest rate of 13.49 percent. This return is to be achieved by linking it to the DeFi Project Curve.
Currently, the Bitcoin (BTC) price curve is only limited fun for investors, BTC has been stuck in a corridor between 10,000 and 11,000 US dollars for weeks. The widely hoped for bull market for Bitcoin has been a long time coming, and not everyone is willing to engage in risky trading with futures or options. Now the world's leading crypto exchange Binance has published an offer for BTC, in which deposits are linked to the DeFi project Curve and should yield 13.49 percent annual interest.
Background on Bitcoin and DeFi at Binance
The majority of known DeFi projects focus on ERC-20 tokens and Ethereum (ETH), so they do not include Bitcoin. In this respect, the offer from Binance is a special feature. Curve as the basis for the forecasted annual interest rate is described by Binance as a liquidity pool that interacts with the DeFi projects Aave and Compound (COMP).
Bitcoin for Curve can be created at Binance via the menu item "DeFi Staking". The minimum deposit is 0.01 BTC and the maximum amount is fixed at 5 BTC per storage round. Billing is on a daily basis and the invested Bitcoin can also be withdrawn from the Smart Contract on a daily basis. Binance promises to have examined the project thoroughly and to monitor it constantly. However, the company does not accept responsibility for any errors in Curve and the underlying Smart Contracts or attacks on DeFi Staking, it is said.
Conclusion: Invest now in Binance Bitcoin for DeFi?
Compared with the interest rates offered by centralized providers such as BlockFi for Bitcoin, a good 13 percent against 6 percent is of course a different level. This Wednesday morning, however, the offer announced by Binance was at least temporarily unavailable and the reasons for this remain open for the time being. In general, Binance has earned a reputation as a serious platform and the risk for investors therefore seems manageable. Especially for those who hold Bitcoin and want to participate in DeFi, it might be worthwhile to take a closer look at the offer and see if and when Binance will accept deposits in BTC for Curve again.
---
Open a Binance Account here and save 10% on fees for a lifetime.