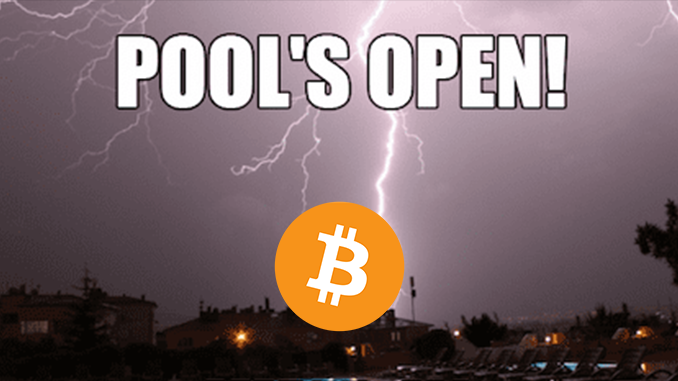 With Lightning Pool a new tool is added to the Lightning network that enables DeFi for Bitcoin. A marketplace for BTC liquidity in the Lightning network will be established and interest rates for lenders and borrowers can be agreed upon.
With the trend topic DeFi is to be heard from Bitcoin usually only at the edge, because the majority of the borrowing transactions is settled over Ethereum (ETH) and compatible ERC 20 tokens. Now Lightning Labs, the company behind the Lightning network, has presented a solution for DeFi with Bitcoin (BTC). Lightning Pool is initially aimed at business customers, but is also to be opened to private investors in the future, according to the product presentation.
Lightning Pool – how DeFi with BTC works
The Bitcoin Lightning network was developed in 2015 to make transactions with BTC faster and cheaper. This is achieved by setting up channels next to the actual Bitcoin block chain to transfer BTC. Only when larger volumes have come together are they collected in a transaction in the Bitcoin block chain.
However, this principle also means that nodes in the Lightning network sometimes need liquidity to immediately execute all orders that have been transmitted to them. Lightning Labs writes that such nodes – including large ones such as those from Bitfinex – have previously communicated via Twitter and other services to provide or request liquidity. Lightning Pool is now to do this largely automatically and at the same time make interest rates transparently comparable.
Borrowers register their needs with Lightning Pool and lenders can deposit liquidity there, in addition to the parameters term and interest rate. At the start, a Lightning Pool with a two-week term will be formed, more will follow. Lightning Labs does not yet provide any information on the expected interest rates, but will map them in the future as in other DeFi projects.
The unofficial Twitter Account Lightning Pool Orders, which analyses data from the Bitcoin block chain, will provide an insight into which deals have already been concluded. According to this, the new service is already in use and an annual interest rate of 10 percent is not uncommon for individual agreements. This would immediately give Lightning Pool better conditions for lenders than centralized platforms for crypto loans such as BlockFi.
Conclusion: Lightning Pool promising approach for BTC DeFi
In the cryptoscene Lighting Pool finds much applause and approval right after the launch. Because the concept is captivating, reacts to a need and has with Lightning Labs a respectable and established offerer behind itself. For the moment the entry for private investors into Lightning Pool is still complicated and connected with the setup of a node. But it should not be long before large pools actively acquire liquidity from private BTC assets or until Lighting Pool itself opens up for them. In addition, Lightning Pool could increase the acceptance of the Bitcoin Lightning network. Good reasons to take a closer look at DeFi and the Lightning Network and Pool.
---
Best place to buy Bitcoin: