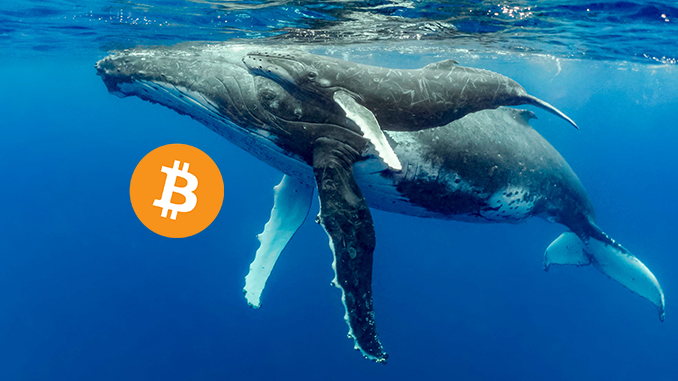 A Bitcoin investor apparently sold BTC on a large scale after 22 waiting periods when the price reached an annual high of USD 12,000 at the beginning of August. Is this a first sign that the times of HODL are ending for Bitcoin? And how do whales actually tactically act?
In cryptojargon, whales are investors who sit on far above-average balances of a crypto currency. And their behavior is closely observed by many small investors, because they hope to gain information about market trends. Therefore the current case of a whale, which threw up to 9,000 BTC on the market, causes discussions in the crypto scene. She has initiated on Twitter "Byzantine General" , who explains: This whale stocked up on about 9,000 Bitcoin in fall 2018, when the price was around 6,000 US dollars per BTC. This whale then kept its nerve for almost two years and did not move its BTC even when prices first pointed upwards and then collapsed again. Only now, in early August, when the BTC briefly traded at 12,000, is this whale making his Bitcoin money again. Without taxes, the profit was a good 50 million US dollars, if "Byzantine General" is right with its data analysis.
This behavior highlights several interesting details in the overall market for Bitcoin:
The strategy of realizing a 100 percent profit sounds very simple at first. What many forget: With such sums, there is no guarantee that the market will take them in. "Litecoin Jack" explains on Twitter using data: Currently, Bitcoin is again mainly dominated by the spot market, the importance of trading in derivatives is weakening. This leads to a situation in which a whale can be pretty sure to find BTC buyers even for large quantities without pushing the price against his interests at the moment.
At the beginning of June, news spread that more than 60 percent of all BTCs had not been moved for a year. Such a significantly high percentage of investors who declare HODL a tactic speaks for itself. HODL means waiting for better times in terms of Bitcoin price. Some also interpret this as a sign for a bull market. Does the whale in question now lead the way?
This brings us to the third question: The price of Bitcoin has been fluctuating in the corridor between 11,000 and 12,000 US dollars for just under a month. The professional trader Michael van de Poppe aka "Crypto Michael" sees the optimistic scenario that the market is currently testing support limits and that the price of Bitcoin could soon rise rapidly. However, he does not leave the risk unmentioned: If BTC slides well below 11,450 US dollars, the price could collapse and tend towards 10,000 US dollars, says "Crypto Michael".
Conclusion: Sentiment in the BTC market is tense
A golden August is not what BTC is currently experiencing. The great macroeconomic argument that the policy of the central banks in the Corona crisis conjures up the danger of inflation and investors bring credit balances in Bitcoin to safety has not yet really proved true. On the other hand, it is fundamentally positive how Bitcoin, despite all the unrest in the global environment, keeps its price above 11,000 US dollars and thus forms the basis for a bull ride. Only whether and if so when the starting signal is fired – no one can give you a serious answer to that question. In any case, while waiting, there is enough time to think about whales and HODL and their potential influence on the price curve of BTC.
---
Best place to buy Bitcoin: