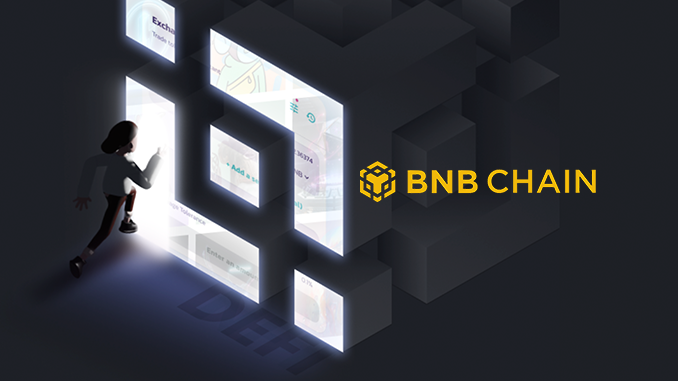 The BNB Chain, also known as the Binance Smart Chain (BSC), is at the center of an expanding ecosystem. A recent analysis highlights the status and looks ahead to challenges for 2023.
Binance is known first and foremost among investors as the largest crypto exchange in the world. But those interested in lines of business such as Decentralized Finance (DeFi) or blockchain gaming are also familiar with the BNB Chain, formerly called Binance Smart Chain (BSC). With the BNB Chain, Binance has created a competitive network in which Binance Coin (BNB) can be used as a base currency and which allows multiple applications. In a recent report, crypto analysis service Messari summarized the state of affairs with BNB Chain and ventured an outlook for 2023.
On the positive side, Messari assesses that development work at BNB Chain went ahead as planned despite the turmoil in the crypto year 2022. An important milestone was the activation of sidechains, which made it possible to provide additional capacity for DApps. The integration of zkBNB is also already being tested here, which should increase performance once again. An unlock of zkBNB for the BNB Chain is expected in Q1 2023.
In absolute numbers presented by Messari, the BNB Chain is the market leader in terms of daily transactions with 3.4 million, leaving competing ecosystems such as those around Ethereum (ETH) or Polygon (MATIC) behind. Growth and peaks were also observed in the number of wallets as an indicator of BNB Chain's appeal. In the DeFi division, however, the data from DeFiLlama shows a need to catch up; here, the BNB Chain comes to around USD 5 billion in invested capital and competes with Tron (TRX) for second place among the most important ecosystems. Ethereum remains the measure of all things with nearly $30 billion in capital allocated to DeFi.
On the minus side for BNB Chain, the October 2022 hack was recorded, necessitating an emergency shutdown of the network. Although no customer funds were at risk from the attack, the incident damaged confidence in BNB Chain. Messari also points to more decentralization at BNB Chain as one of the tasks for 2023, significantly increasing the number of approved nodes for validating transactions and debunking critics who accuse BNB Chain of "pseudo-decentralization."
Bottom line: BNB Chain a growth engine for Binance's ecosystem.
Messari balances "competitiveness" for BNB Chain, citing, for example, well-filled funds used to attract developers and projects. The momentum ultimately benefits Binance and BNB as well. On the other hand, CEO Changpeng Zhao (CZ) has repeatedly proclaimed the goal of promoting the independence of the BNB Chain and reducing the influence of Binance. Because CZ knows that parts of the crypto scene are upset that the BNB Chain lacks true decentralization. Binance and the community need to make improvements here in order to continue to grow from the good starting point.