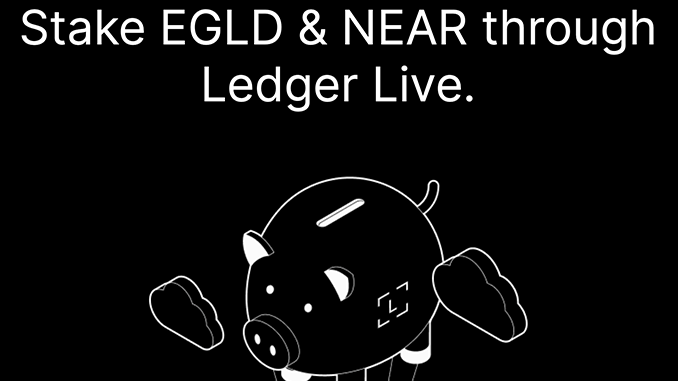 Ledger's popular hardware wallets now also allow staking for NEAR and MultiversX (EGLD) to be set up conveniently and securely. Up to 10 percent APR should be possible with this method.
Staking as a way to generate passive income with cryptocurrency balances is no longer an insider tip. In order to carry out staking as securely as possible, the hardware wallets from Ledger are a good choice. Because then the control over the staked coins remains with the owner and is not transferred to others as, for example, when staking via crypto exchanges. Now Ledger has added two more altcoins, NEAR and MultiversX (EGLD), to its staking program, which is implemented in cooperation with crypto company Figment.
In two official blogposts about NEAR and MultiversX (EGLD), Ledger describes that signing up for staking can be done with a few clicks of the mouse and there are no upfront requirements. Staked NEAR and/or EGLD can also be withdrawn from staking at any time. According to Pigment, staking with Near Protocol and MultiversX is currently a good 9 percent APR, a good value compared to other providers.
Staking with Ledger and Pigment works with all hardware wallets from the French manufacturer, which recently launched a new premium model, the Ledger Stax. The Ledger Nano S Plus as an entry-level model and the Ledger Nano X for advanced users still complement the product range. We usually prefer the Ledger hardware wallets over the competition from Trezor because Ledger supports more cryptocurrencies directly and also scores in terms of user-friendliness.
Conclusion: Staking NEAR and EGLD with Ledger Hardware Wallets
Near Protocol belongs to the Decentralized Finance Tokens (DeFi) and has established itself among the 50 most capitalized cryptocurrencies, just like the multifunctional MultiversX. After massive price losses in 2022, including in the overall market, NEAR and EGLD are showing upward trends in the new year, but each remains about 90 percent away from previous all-time highs. This suggests opportunities for the price curves to resume their sustained upward trajectory. If you are interested in Near Protocol or MultiversX or already hold NEAR or EGLD, you now have the opportunity to let the capital work passively for you via staking with Ledger. And if you are still looking for the individually perfect hardware wallet, then take a look at our big special here with all the technical information and tips for handling.