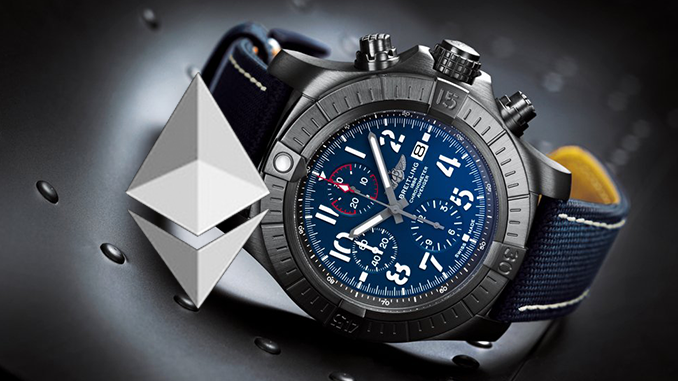 With Breitling as a manufacturer of wristwatches, another company from the luxury sector is now focusing on digital certificates of authenticity. Stored and organized on Arianee's Blockchain, this solution will also be used in the future to offer insurance for Breitling watches.
Customers in the luxury sector are increasingly coming into contact with Blockchain solutions almost automatically. The latest case in point is the Swiss watch manufacturer Breitling, which now includes a "digital passport" with its products. This can be scanned with a smartphone and then leads to a wallet, as Breitling describes the mechanism. Once the new watch has been registered by its owner, the wallet currently records the warranty status and repair history. In addition, if the watch is resold, the wallet can be used to register the new owner. For example, the industry leader in luxury goods, Moët Hennessy Louis Vuitton (LVMH), is also developing digital certificates of authenticity for the Blockchain under the name "Aura".
Breitling cooperates with Arianee for blockchain and wallet
At Breitling, the French consortium Arianee will be responsible for digital innovation. In a press release, Arianee describes that in the near future the wallet will be expanded to include functions such as warranty extension and insurance for the valuable watches. From mid-January 2021, owners of older Breitling watches will also be able to obtain a "digital passport" and thus participate in the program.
Arianee is promoting its services as a standard solution for the luxury sector. The consortium is not for profit; its members already include a good dozen luxury brands. Technologically speaking, Arianee works with ERC-721 tokens that are "non-fungible", i.e. individual and non-destructible. LVMH also uses this approach with "Aura". The tokens are documented in the block chain of Ethereum (ETH). Georges Kern, CEO of Breitling, sees the new offering as an "innovative service". He emphasizes new opportunities for customer loyalty and communication through the digital connection of the products.
Conclusion: A beautiful new block chain world at Breitling
It will be exciting to see whether buyers of Breitlings watches or other luxury goods take advantage of the option to register their products digitally via a block chain. The process of using an app is fundamentally different from the practice of handling this via purchase receipts and retailers. But proponents point to the enhanced service and convenience. Whether resale or warranty issues, information on manufacturing and materials used, insurance or offers for accessories, invitations to exclusive events or warnings – the list of services that can be linked is long. It also remains interesting whether manufacturers can agree on a common standard. After all, do you really want to have a separate app on your smartphone for every luxury good in the future? A uniform solution would probably be in the interest of customers. One thing seems certain: The fashion and luxury industry recognizes the opportunities offered by block-chain solutions earlier than other sectors of the economy and is already transferring them into everyday life.
---
Best place to buy Bitcoin and Ethereum: