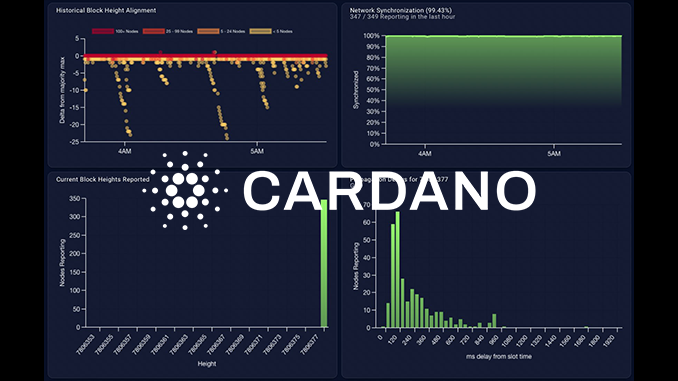 A few days ago, Cardano (ADA) installed the Vasil upgrade in its network. First results are already measurable and make optimistic. As of today, further consequences of Vasil are coming into effect for Cardano.
On September 22, Cardano (ADA) activated the long-awaited Vasil upgrade. Initially, there was no major impact on ADA's price curve in the surrounding area – but the technological improvements for Cardano through Vasil are visible. Rick McCracken, for example, who organizes a staking pool for ADA, has summarized his observations on Vasil on Twitter. According to him, the upgrade has made Cardano more stable, decentralized and faster overall.
According to McCracken, this can be seen in various indicators. It emphasizes that network points synchronize with Cardano after Vasil substantially better. This is shown by graphs illustrating how many network points were lagging in synchronization before Vasil and that these near misses have now become a rarity. Synchronization of the Cardano network has been simplified by Vasil and means that, in the best case, all nodes are at the same level of information in real time. The synchronization rate was over 99 percent for Cardano after Vasil, McCracken says, which is an exceedingly healthy rate.
It's also directly expressed in the amount of time a new block on Cardano's blockchain now typically has to wait before it's validated. This, he says, has dropped from around 1,600 milliseconds before Vasil to around 300 milliseconds now. McCracken goes on to point out that with Cardano, more than 300 nodes voluntarily provide information about the status of the network at any given time, which is classified as evidence of decentralization that works.
Vasil for ADA will provide further improvements to the ecosystem this Tuesday (Sept. 27). This is because, as planned, it virtually ignites a second stage of the upgrade, which expands possibilities for Plutus on Cardano. Plutus is the programming language for smart contracts at Cardano and thus an important factor in how ADA performs in use cases for Decentralized Finances (DeFi), for example. The current conclusion of Vasil for Cardano should also reduce transaction fees for ADA.
Conclusion: Cardano with upgrade Vasil – bang effect remains off for now
Input Output as the crypto company behind Cardano also draws a satisfied first conclusion to the upgrade Vasil in its weekly report and points out that details can still be readjusted in a few weeks. Here, the focus is on optimizing the capacities in the ADA ecosystem so that time-critical use cases such as blockchain gaming and DeFi also function in a user-friendly manner. Just as important, however, remains whether new projects based on ADA will actually start now with the complete Vasil and the expanded Plutus. Because Cardano's Achilles heel from an investor's perspective remains: ADA may have secured its place among the top ten global cryptocurrencies with a current market capitalization of $15.7 billion – but what you can do with ADA in practice has yet to emerge. Competitors like Ethereum (ETH) and Solana (SOL) already have established divisions in their ecosystems, from DeFi to NFTs, where millions are turned over every day.
---