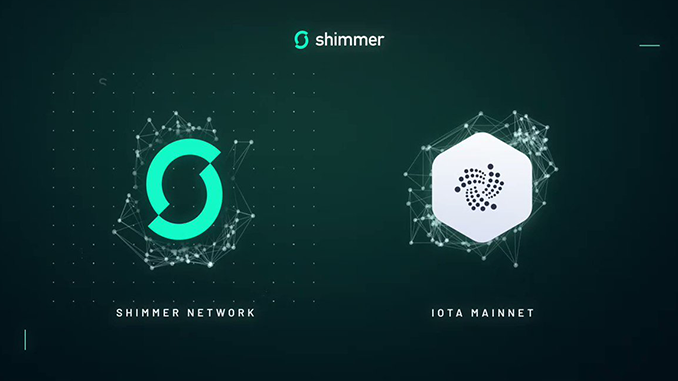 At IOTA, the launch of side project Shimmer (SMR) is celebrated today, Wednesday noon. We have summarized important information about it for you and take a look at the prehistory.
In the IOTA community, the launch of Shimmer (SMR) scheduled for today (September 28) at 2 p.m. German time is the topic of the day and beyond. Because with the official launch of the mainnet for Shimmer, the ecosystem of IOTA grows for the first time in its history by a new token. Until recently, the IOTA Foundation and the team behind SMR remained vague with announcements about where Shimmer will be freely tradable after launch. The crypto exchange BitForex promised support for SMR via Twitter without going into detail. Shimmer itself names the crypto exchange Bitfinex as a partner on its invitation to the launch party in Singapore, so a prompt listing of SMR is likely to be planned here as well. Binance, the most important trading platform for IOTA, has not yet commented on Shimmer.
What has been clear for a few days is that investors should install a special version of the IOTA wallet Firefly to be able to claim their Shimmer from the staking period. However, as of Wednesday morning, the IOTA Firefly Shimmer app was not yet available for download. From December 2021 to March 2022, SMR had a three-month staking period for deposited IOTA. These can be claimed with the launch of the mainnet.
In August, the decision to increase the total amount of all SMR by a good 20 percent caused some sharp discussions in the IOTA community. This is to provide seed money for two development funds for Shimmer. However, after the close vote, critics pointed to possible conflicts of interest on the part of IOTA CEO Dominik Schiener. Shimmer was actually supposed to be 100 percent owned by IOTA Staker at launch. Some voices were also disappointed when Schiener recently announced that the originally planned inflation of 8 percent in the concept of Shimmer would be deleted without replacement – because as a result, there will be no staking with Shimmer after the launch, unlike promised at the end of 2021.
Conclusion: Shimmer launches – will SMR make IOTA more attractive?
In terms of content, the concept of Shimmer has been readjusted several times over the months. The network is now often compared to Kusama (KSM), which Polkadot (DOT) proved to be a public testnet under real-world conditions and developed monetary value. The price curve of IOTA showed a positive trend before the launch of Shimmer. Taking Kusama as a guide, Shimmer could reach a market capitalization of around $40 million at launch. However, observers point out that SMR's stock market debut falls in a period when global economic uncertainties are weighing on crypto markets and demand for new projects has dropped noticeably.
If all goes according to plan technologically at Shimmer, new features such as smart contracts and NFTs will be tested there in the future before reaching Tanglenet in IOTA's ecosystem. This is where IOTA could benefit from Shimmer and gain opportunities in perspective. However, the decentralization in Tanglenet (keyword: coordicide) promised for years by the IOTA Foundation will not be achieved immediately by Shimmer either – this construction site remains crucially important for IOTA, as the crypto industry is suspicious of the central coordinator in the network.
---