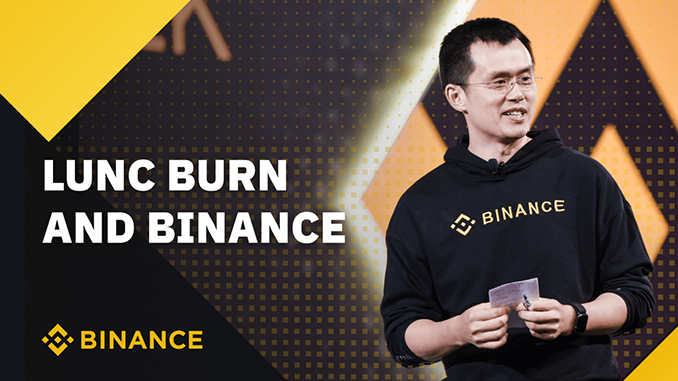 Terra Classic (LUNC) is pumping, since yesterday the altcoin has increased in price by a good 60 percent. The background to this is a mechanism for reducing the number of tokens ("burning") in Terra Classic, which Binance now also supports.
Terra (LUNA) was at the center of a gigantic crash in May with its algorithmically coupled stablecoin UST – when the concept collapsed, at least 40 billion US dollars were wiped out in a few days. Attempts to develop a new ecosystem around LUNA 2.0 failed. But the actually dead "old" Terra, now under the name Terra Classic (LUNC), is currently experiencing a spectacular momentum. The price curve of LUNC has turned positive by about 60 percent in the past 24 hours, bringing Terra Classic close to the top 30 cryptocurrencies by market capitalization again.
Experts see a decision by the world's largest crypto exchange Binance as decisive for the rally. This initially intended to implement a newly introduced burning mechanism at Terra Classic only on a voluntary basis by customers. The community at LUNC had decided that 1.2 percent additional fees would be charged for each trade on Terra Classic, which would then be destroyed ("burned"). This should systematically reduce the total number of LUNC in circulation and thus increase the value. But Binance, as by far the most important LUNC trading venue, initially signaled only lukewarm support and wanted to collect the additional fee only on a voluntary basis from customers.
But then Binance CEO Changpeng Zhao announced a turnaround yesterday via Twitter. It had been realized that a voluntary solution for burning Terra Classic would hardly work and would also need time for the technological implementation. To accommodate customers and the community, Binance has therefore chosen its own approach. According to the announcement, Binance is choosing a special path to support burning at LUNC. Binance will use the fees it collects for trading in the LUNC/BUSD and LUNC/USDT currency pairs to buy back Terra Classic and then transfer the coins to Burning. CZ states that this solution seems "fair" to him because there are no special costs for customers.
Conclusion: Terra Classic – sustainable comeback or speculative moment?
Binance occupies about 55 percent market share for day trading with LUNC and the decision to burn is in this respect trend-setting. This is also shown by the price jump that Terra Classic made after Binance gave in. However, it is doubtful whether LUNC will now take off in the long term. Terra's image remains severely damaged by the crash in May, and there are still investors who bought LUNC for over 100 US dollars before the crash. Currently, LUNC is quoted at around 0.0003 US dollars and thus miles away from better times.
For Terra Classic to make a sustainable comeback, the ecosystem would also have to be revived. But there, according to data from DeFiLlama, Terra has fallen back to just $9 million in invested capital for DeFi and a 61st place among major ecosystems. Before the crash, billions were still gathering at DeFi under LUNA and the ecosystem ranked sovereignly among the top five.
---