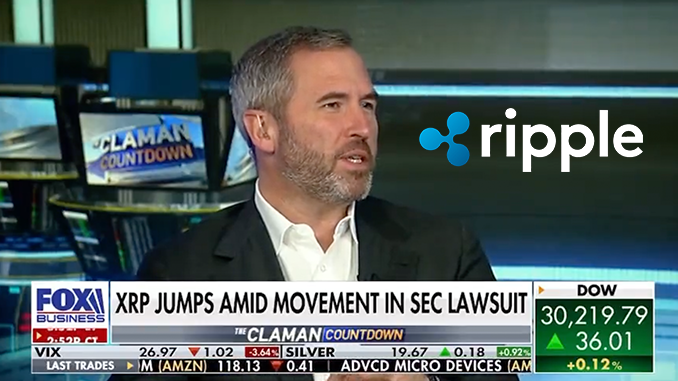 Ripple (XRP) has temporarily recorded a good 40 percent plus in the price curve in the past week. The positive outlier of XRP in weak market environment is justified with recent news from the process with the SEC.
Ripple (XRP) presents itself these days as the altcoin of the week: At the weekend, XRP was temporarily 44 percent plus over the seven days before – so Ripple clearly outperformed all other cryptocurrencies of the top 50 in the price development. The reward for the development is the regained 6th place for XRP among the most capitalized cryptocurrencies. Its direct competitor in terms of market capitalization, Cardano (ADA), was unable to keep up with Ripple's rally and fell back to 8th place. According to the intention of analysts, the price jump of XRP is due to the latest developments in the mammoth trial of the U.S. Securities and Exchange Commission (SEC) against Ripple.
There, the two parties to the lawsuit had independently filed for judgment just over a week ago. The SEC indicted Ripple in December 2020 and wants to achieve damages and penalties for unauthorized sales of XRP. However, the evidence for this proved to be meager in the past 20 months and recently the SEC was more conspicuous with delaying tactics in the process than with convincing arguments. Thus, investors seem to be increasingly betting on a positive outcome of the proceedings for Ripple and XRP and are building up positions.
Ripple CEO Brad Garlinghouse, meanwhile, recalled in a TV interview that XRP was in better shape before the SEC's investigation than it is today. In response to the SEC's action, leading crypto exchanges in the U.S. and Canada had delisted XRP, largely bringing Ripple's North American business to a halt. Here, investors are hoping for a comeback after the trial ends. Because in principle, Ripple sees itself well positioned to occupy use cases in lines of business such as DeFi and NFTs, in addition to acting as a bridge currency in international payments with XRP.
Conclusion: XRP with interim high or sustainable success for Ripple?
When evaluating XRP, you should not forget that the market data here shows an above-average concentration of large investors ("whales"). So pump-and-dump speculation is not impossible with XRP. On the other hand, there is also increasing talk from legal process observers that Ripple is likely to come out of the process with the SEC victorious, by settlement or with a "black eye". If these predictions come true, the chances for XRP to actually maintain its own momentum are not bad.
---